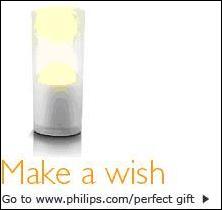 Amsterdam, Netherlands (PRWEB) December 16, 2006
To help beat the holiday gift rush, Philips has launched an innovative, fun website to take the uncertainty out buying presents, with lots of inspiring ideas from Philips Consumer Electronics, Domestic Appliances and Lighting, all on a single easy to use website -- http://www.philips.com/perfectgift.
Consumers around the world can freely use the site -- no login needed -- to see which products suit different type of person and to light virtual candles for their loved ones.
Once lit, candles are added in real time to the grotto with all the other candles lit so far in all the participating countries, making for a unique and truly international forum to celebrate the holidays. The more wishes people make the more candles will appear, with wishes from all around the world glowing in perfect harmony and in many different languages.
The candles featured on the site are themselves modeled on the popular Philips Imageo LED candles, with unique flickering and solid flame settings. Being fully rechargeable and wire free they are also perfect for both indoors and outdoor use.
Well wishers using the site are automatically entered into prize draws for each of the 21 country sites participating in the project. Winners will be announced in the New Year, with each one getting to make their wish come true!
Light a candle for someone special at http:http://www.philips.com/perfectgift
For more information:
Hubert Grealish
Philips Consumer Electronics
Phone: +31 (0) 20 59 77701
# # #