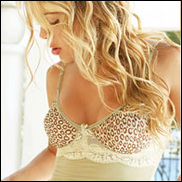 This will be a fun event! We are anxious ourselves to get the company out to the public. We just thought it would be a little more entertaining to do it with a little twist.
Edgerton, WI (PRWEB) December 18, 2006
What is the #1 complaint of today's lingerie shoppers? According to Andrea Segovia - Owner of Vu Azul, it's that no company today truly addresses innovation in lingerie styles. Until now.
Vu Azul based in Madison, WI, is promising to end the disappointment associated with drab and lifeless lingerie with their "white hot" imported intimate fashions and colorful everyday styles.
"In talking with women's clothing shoppers, one thing that became very clear was that they were searching for a way to stand out from the styles worn by the women surrounding them. These women were seeking style and color which would empower them with their own unique preferences," said Andrea Segovia, a South American native. "Quite simply I've had the problem myself. With the emergence of chain stores at every major shopping center it's hard to find unique fashions to fit an individuals personality without sliding into the sea of affluent women shoppers" said Andrea. "What we're offering at Vu Azul is a way to shop in the comfort of your own home for styles you would need to travel around the globe to track down." "Simply put, it's Fashion with Flavor." Andrea added "…and to help our customers look their sexiest in our sexy styles, I have released my recently finished book 'The 3 Keys to Unlock the Secret Door to your Perfect Body.'" This book is Andrea's first and was co-authored with Joel Heyn. The book is currently only available by download on their website.
Vu Azul has boldly decided to launch their store with a grand opening strategy never seen before. Mysteriously new shoppers will not be able to see or buy new items until they are officially released. The event will start on January 1st 2007 and will continue for 3 full months. Each and every day of the New Year for 90 days women across the globe will be anxiously awaiting the next new hot item for today's sexiest women. Each new item will be discounted 25% only on the day of it's release. "This will be a fun event! We are anxious ourselves to get the company out to the public. We just thought it would be a little more entertaining to do it with a little twist." Commented Andrea on their grand opening event.
With Vu Azul, today's intelligent Internet shopper will now be able to:
*source great styles with minimal effort
*be the trend "setter", NOT follower of new fashions
*have access to ideal body diet & nutrition plans
*stay miles ahead of the chain store fashions
*stay apart from the sea of look alike women
About Vu Azul
Started as a concept store in the Fall of 2006 Vu Azul is steadily emerging as the industry leader in Sexy and Exotic Styles. Shoppers can buy in comfort online at http://www.vuazul.com starting January 1st 2007. Currently they only offer items to their exclusive "Hotlist" members which is a free members-only list with sign up available at the Vu Azul website; http://www.vuazul.com
Owner Andrea Segovia is focused on staying ahead of the fashion curve with exclusive style introductions found nowhere else, and yes, they also are also developing imported Styles for men. Friendly support is available to men shopping for their loved ones.
With a product line of everything from imported lingerie to figure enhancing corsets and fajas, Vu Azul is becoming the top place to shop online in confidence for hot new fashions. Their promise is to create a magnetic attraction to their customers through rare and exotic styles.
###