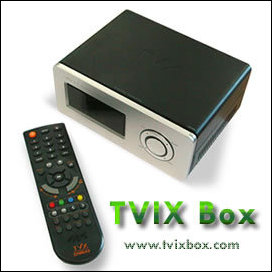 However, digital cameras and the success of download sites have changed all that
San Francisco, CA (PRWEB) December 15, 2006 –-
An innovative new multimedia entertainment system from TVIX Box that's revolutionizing how people experience digital media is making its way into living rooms all across America this holiday season. Citing excellent sales and improvements in the manufacturing process, TVIX Box has discounted its most popular model, the TVIX Box M-3100U Digital Multimedia Player, by more than 40% this holiday season.
Less than half the size of a small shoe box, the TVIX Box M-3100U stores thousands of DVD's, home movies, MP3's and digital photos on a built-in hard disk drive. The media can then be played back on any TV using the included remote control and simple on screen menus.
Utilizing a standard USB 2.0 port, the TVIX Box connects to a PC to conveniently transfer digital photos, home movies, backed-up DVD's, downloaded media files and MP3's. The TVIX Box plays nearly all types of media files with high fidelity digital surround sound, high-resolution picture quality and full support for DVD menus and options.
Once attached to a television or home entertainment system, the TVIX Box becomes a full-fledged multimedia library, allowing the viewer to browse through their collected media files with ease. For digital photo viewing, the TVIX Box supports slideshows and rotations. Shuffle mode and playlist support make MP3 playback perfect for background music.
TVIX Box CEO, Christopher Leonard, is enthusiastic about the early success of the TVIX Box and is convinced that the price cut will extend its appeal to an even wider range of customers.
"Techies have been downloading movies and music for years," says Leonard. "Of course they jump to buy the TVIX Box simply because it is more enjoyable to watch a movie in your living room than at your computer."
"However, digital cameras and the success of download sites have changed all that," Leonard says. "Now everybody has digital media on their computer, and the question is: How do we get it to the living room so we can enjoy it on a big screen, in digital surround sound, with friends and family? The TVIX Box is the answer to that question."
With the units selling on http://www.tvixbox.com for $149 the company believes that this powerful new technology is finally accessible to the average person.
Now more affordable than ever, this award winning new TVIX Box M-3100U Digital Multimedia Player makes an ideal holiday gift for the computer savvy friend or family member.
For additional information regarding the TVIX Box line of digital multimedia players, please contact Paul Valente or visit http://www.tvixbox.com.
About TVIX Box:
TVIX Box is a manufacturer and supplier of home, commercial, portable and personal multimedia players including the TVIX Box line of hard disk drive (HDD) digital multimedia players and is based in Northern California.
Contact:
Paul Valente, PR Director
TVIX Box
(415) 971-1978
###