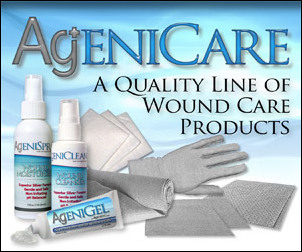 we are honored that both Gerald A. Bruno, Ph.D. and Ms. Monica M. Adametz, CPA, have accepted their positions with the company
Port Saint Lucie, FL (PRWEB) December 18, 2006
The Agenisys® Corp, a fast growing Florida Bio-Tech company (http://www.agenisys.com), which manufactures and sells a variety of Silver Wound Care & Burn Products announces that is has elected Gerald A. Bruno, Ph.D., a Graduate of Purdue University, as its President & CEO, and a member of the Board of Directors. The Company has also appointed Monica M. Adametz, a (CPA), as its Chief Financial Officer and as a member of the board of Directors. Ms. Adametz is a graduate of Fairfield University, and holds a B.S. in Accounting. She is a Certified Public Accountant and a member of the AICPA.
Dr. Bruno was the President, CEO and Founder (1985-1995) of BioTrax International (annual revenues in excess of 100 million), Executive Vice President of National Medical Care Inc, and a Director of Diagnostics R & D for the E.R. Squibb & Sons Company. Dr. Bruno, since 1996, has been involved in the implementation of small business development investment and consulting projects. He was the past President of the Radiopharmaceutical Science Council, Society of Nuclear Medicine Chairman, Radioisotope Committee, and the Atomic Industrial Forum.
Ms. Adametz is a senior financial executive with over 20 years of experience in public and corporate accounting. Currently, Ms. Adametz is the Vice President/CFO of SL Ventures, where she provides financial management to several portfolio businesses in the medical field. Monica has a broad spectrum of financial management experience, ranging from routine corporate budgeting and financial reporting to financial due diligence associated with acquisition activities. Prior to joining SL Ventures, she was Director of Finance for BioTrax International, a startup company which was sold to National Medical Care. Ms. Adametz was also an audit manager for KPMG LLP and a financial analyst for ITT Corporation. She was also an adjunct accounting professor at Ramapo College. The Agenisys® Corp's Chairman Scott Ty Cobb stated "we are honored that both Gerald A. Bruno, Ph.D. and Ms. Monica M. Adametz, CPA, have accepted their positions with the company".
The Agenisys Corp. distributes the AgeniCare® line of Silver Wound Care products, which include a single layer silver plated nylon series of wound and burn contact dressings. The AgeniBurn®/AgeniWound® Dressings are composed of silver plated knitted fabrics that are flexible, minimally adhering, and Antimicrobial. These dressings are extremely versatile and user friendly, conforming to hard-to-dress areas and providing mild compression when needed. AgeniBurn®/AgeniWound® Contact Dressings are indicated for management of incisions, skin grafts, donor sites, lacerations, abrasions, pressure sores, chronic wounds, chronic ulcers, dermal ulcers, vascular ulcers, and diabetic ulcers. The AgeniSpray® is a wound moisturizer which enhances the effectiveness of all the AgeniCare® dressings. The AgeniCleanse® is intended when extra cleaning power is needed.
The Agenisys® Corp (https://www.shop.agenisys.com), is a privately held biotech company, with its Corporate Office in Port Saint Lucie Florida and its Quality Assurance and manufacturing facility in Ashville North Carolina, that is dedicated to helping improve people's lives through their advanced research & development in Wound Management products.
###