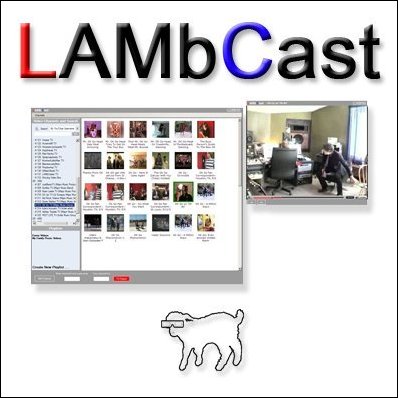 New York, NY (PRWEB) December 20, 2006 -
A new startup company named Look At My Broadcast, otherwise known as LAMbCast is proud to announce their much anticipated launch. LAMbCast aims to be the best desktop application to deliver YouTube entertainment with many options such as a scalable video window and a TV output for a second display through a compatible video card.
LAMbCast offers a variety of options so that its users can create playlists with private videos, download their favorite videos in an Ipod and Zune compatible format, and easy distribution of playlists for both personal and professional use. LAMbCast also offers a smaller application named LambList to distribute a collection of YouTube clips of a family vacation or even a sitcom with advertisements just like a TV network.
Founded in 2004 by William G. Blanchard, an inventor who writes and submits his own patents, states: "LAMbCast adds the next level of true web to desktop and TV broadcasting power. We are providing a system for anyone that would like to walk into their local cable company and receive a personal cable channel. We know the cable company can't assign personal cable channels, but with LAMbCast, you now have your own broadcasting channel through the computer with YouTube.com acting as a video repository. LAMbCast will open the door for Internet video programmers to tap into a $285 billion dollar yearly ad revenue stream that is currently only reserved for traditional broadcast television. Our goal is to offer industry leading and incredibly innovative software applications to the public that will heighten entertainment and eventually generate revenue for our users."
LAMbCast is available in free and premium versions. With their affordable premium subscription rate of only $1 per month, LambCast takes pride in their products and services being available to everyone in the world. Beginning December 24, 2006, this application will be available via http://www.LambCast.com and also on http://www.download.com.
Media Contact:
William G. Blanchard
# # #