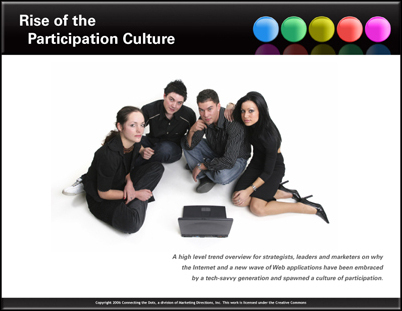 MINNEAPOLIS, MN (PRWEB) December 19, 2006
Connecting the Dots, a Marketing Directions, Inc. consulting practice, today announced the availability of a free trend report specifically designed to enable strategists, leaders and marketers to grasp the emergent culture of participation enabled by an increasingly fast, mobile, ubiquitous and global Internet.
While many of us were placing our attention elsewhere, the post-dotcom-crash World Wide Web and global Internet continued to evolve. Once seemingly going to be solely focused on ecommerce, transaction-centric and primarily Web page publishing paradigms, an amazing array of Web-based applications has burst forth and a new culture is forming comprised of people participating within them. An underlying infrastructure to support these applications has emerged geared to enabling, engaging and encouraging applications to be developed, but also to enable these applications to be leveraged on a massive scale. As a result, a global culture of tech-savvy, always-on and always-connected people is enthusiastically using these new Participation Applications and are shaping our networked world in new and fundamentally profound ways.
"It's really very, very good. Bravo," said Howard Rheingold of the report upon being provided with an advance look at Rise of the Participation Culture. Mr. Rheingold is an expert in the field and author of "The Virtual Community," "Smart Mobs" as well as teaching Participatory Media/Collective Action at UC Berkeley's School of Information and Digital Journalism at Stanford University.
"There is an acceleration toward Internet-centric social and community offerings, methods of communicating and digital entertainment while a simultaneous deceleration of traditional approaches is occurring. My clients wrestle with how to reach people participating online, how they can provide products and services these people want as well as how to engage them in applying their collective intelligence and be co-creators with us," explained Steve Borsch, CEO of Marketing Directions, Inc., head of the Connecting the Dots practice and author of the blog of the same name. "We feel that making this report widely available (and free) is important to help broaden understanding of this participatory global phenomena."
As traditional media, public relations, advertising and brand marketers respective approaches downtrend and change, addressing the needs and expectations of the Participation Culture is key to strategy and tactics going forward. This free report can guide, provide insight and spawn ideas in this time of accelerating change.
The Rise of the Participation Culture report can be found at: http://www.wsjb.com/RPC/
About Connecting the Dots (CTD)
CTD (http://www.iConnectDots.com) is a leading provider of guidance, insight and ideas for the next generation Internet. We work with clients in multiple industries around the intersection of Internet-as-a-platform (often referred to as "Web 2.0"), the shift in consciousness toward the Web and away from traditional communications and media, as well as the rise of community and all that means to businesses conversing with customers, employees and other constituents.
CTD is a practice of Marketing Directions, Inc., whose principle publication, products and services surround The Trend Curve(tm), the International Authority on Trends in Home Furnishings.
###