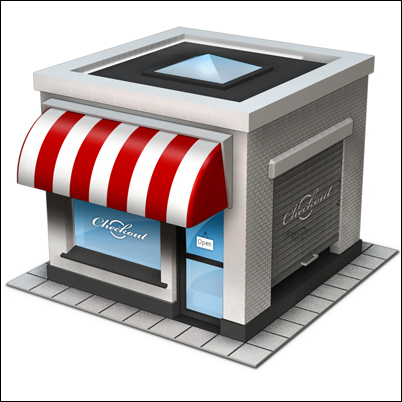 We rather make beautiful things
Amsterdam, NL (PRWEB) December 19, 2006
Today version 1.0 of Checkout, the highly anticipated new Point of Sale application for the Mac was released.
Checkout has been in public beta since October 23 of this year. After extensive beta testing, the new Mac business application is now available for sale from http://www.checkoutapp.com for a special introductory price of 329 euros.
Checkout offers resellers an intuitive and easy to learn working environment. Thanks to its flexible workflow, clear interface and instant search capabilities, Checkout makes it easy for resellers to focus on their core business.
A fully functional Demo version of Checkout is available from http://www.checkoutapp.com.
For an overview of how Checkout works see the Quicktours on http://www.checkoutapp.com/show/quicktours.
Key Features:
A pleasure to use, for both novices and power users
Instant searchability everywhere
Clear reports for a quick insight in your store's operations
Does your bookkeeping while you do the work
Built upon the rock solid foundations of Mac OS X
More features:
Invoice layout totally customizable in HTML and CSS
Quick over the counter sales as well as personalized invoices and quotes
Barcode scanning of products and serial numbers
Cost matching, fixed value bookkeeping engine for GAAP compliant accounting
Bookkeeping and Reports exportable in Excel, CSV and TSV file formats
Ships with an example store to quickly get acquainted
Highly accessible through a wide range of keyboard shortcuts
Imports products from CSV and TSV files
Supports both Sales Tax and Value Added Tax systems
Syncs with the Mac OS X Address Book
Full support for Unicode characters
Fully localized currency representation
Universal Binary
System requirements:
Macintosh computer with Mac OS X v10.4.6 or later. Mac with G4, G5 or Intel processor and at least 512 MB of RAM recommended.
Company info:
madebysofa is an interface design and software company, who's primary mission is to bring software with great interfaces to areas where usability is often considered an afterthought. "We rather make beautiful things" - http://www.madebysofa.com
------------
notes for editors:
Press contacts:
Dirk Stoop - dirk @ madebysofa.com - + 31 628 129 723
Koen Bok - koen @ madebysofa.com - +31 615 526 526
NFR licenses available upon request, please mail or call Dirk or Koen.
Screenshots and other press materials available from:
http://www.checkoutapp.com/show/press
madebysofa, the madebysofa logo and the Checkout logo are trademarks of madebysofa BV - Amsterdam, the Netherlands.
###