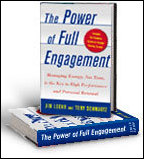 The first step for many individuals
Orlando, FL (PRWEB) December 20, 2006
The symptoms of workplace and personal stress have a familiar face: Impatience, apathy, poor anger management and lack of common politeness are but a few. People whose mental, spiritual, emotional, or physical energy are unbalanced produce all these symptoms and more. While this is widely understood, its antidote is often elusive.
As individuals and employers form their renewal plans for 2007, the Human Performance Institute is providing a free five-minute self-test, the Full Engagement® Free Profile. It helps individuals diagnose their energy and engagement challenges and provides steps towards full engagement in life and work.
"We get energy for sustained performance when we manage our energy resources effectively," says Dr. Jim Loehr, CEO of the Human Performance Institute and coauthor of The Power of Full Engagement. "It's a process that's not always intuitive, but it can be learned and practiced through awareness and positive energy rituals." His 30-year experience in the field of performance psychology reveals that most people have very poor awareness of how they manage their energy resources. "The first step for many individuals," says Dr. Loehr, "is to face the truth about their current energy management habits."
The two-page Free Profile report shows a snapshot of mental, spiritual, emotional and physical energy, rest and recovery, and overall engagement in life and work. A longer assessment, the Full Engagement Self Profile, offers in-depth analysis of personal energy management. Full Engagement Profiles are a key component in the "Facing the Truth" module in the Human Performance Institute's Energy for Performance™ training programs, as well as an excellent standalone resource for any adult.
Offered since March 2003, over 120,000 individuals have completed the Free Profile and Self Profile. The Self Profile is now available for the first time to the public for only $49. The regular price is $75. The 16-page report provides not only the individual's scores, but averages (norms) for all respondents and worksheets to help them apply the knowledge they gain from the report.
Employers can arrange for employees to use the more extensive Self Profile for $49 by visiting the
Human Performance Institute Web site. They can also learn about training options at this site.
About the Human Performance Institute:
The Human Performance Institute provides energy and engagement training solutions for organizations at their Orlando, FL headquarters as well as client locations worldwide. Their programs are widely used as part of Employer of Choice initiatives, employee wellness programs and other organizational efforts to increase employee engagement.
For further information, contact Jackie Bick at 407.438.9911 ext. 140.
This press release was distributed through eMediawire by Human Resources Marketer (HR Marketer: http://www.HRmarketer.com) on behalf of the company listed above.
# # #