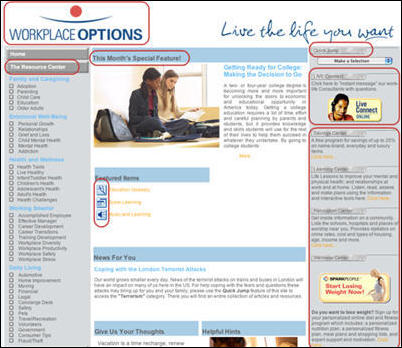 Taking action is the next step to achieve healthy results, even if it does mean waiting for the a New Year to put resolutions in place. That is a good starting point.
Raleigh, NC (PRWEB) December 20, 2006
Workplace Options, the largest provider of work-life employee benefits in America, has announced results from their special holiday poll conducted through WPO's Advantage™ web site.
The poll, available to U.S. employees who have access to WPO's Advantage web site through their employer or employee assistance plan (EAP) asks employees how they will keep their health in focus over the holidays. The results indicate that most people will rely on healthy eating and exercise to avoid weight gain over the holidays.
Specifically, 46% said they would sneak in some form of exercise and 16% plan to give active gifts to loved ones such as exercise equipment, biking gear and even dance lessons. Of the same group, 70% of respondents said they would skip second helpings and holiday sweet treats. Unfortunately, a whopping 21% said good health will not be on their minds this holiday season and will wait to use their New Year resolutions to address the unhealthy side affects of the holidays.
"Results from our poll show that a majority of the workforce know what is good for their bodies and are aware of the importance of a healthy lifestyle," said Alan King, president of Workplace Options. "Taking action is the next step to achieve healthy results, even if it does mean waiting for the a New Year to put resolutions in place. That is a good starting point."
In addition to monthly poll results, WPO offers health advice on their customer web site that covers healthy eating, gift giving and mental well-being including these ten tips for a healthy holiday:
It's easy to overindulge during the holidays. Make sure to watch portion sizes and select one or two of your favorites from the host of tempting foods. For a healthy snack, choose a piece of fresh fruit.
Get enough sleep and drink plenty of water.
Exercise! Plan your physical activity routine in advance (don't leave it up to chance). Mark it on the calendar and consider it as important as any other appointment.
Establish a budget and stick to it! Don't forget to add the cost of all those special holiday foods that you plan to prepare.
Find time for yourself! Don't spend all your time providing activities for your family and friends.
Don't drink too much. Excessive drinking will only make you tired and depressed.
Talk with your family about finances. Even young children can learn how to budget for gifts. Urge them to get creative and make presents for family members instead of buying them. Receiving a thoughtful gift from a child can be a memorable holiday moment.
Keep expectations for the holiday season manageable. Don't try to make it "the best ever."
Keep your emotions in check. This could involve writing a letter, reading or meditating. Keeping a journal of your feelings over holiday periods may help you to get a grip on your emotional responses. Seeing more clearly will empower you to act, not react.
Recognize that life brings change. The holidays don't need to be just like they were in the "good old days" to be enjoyable. Develop some new family traditions. Celebrate the holidays in a way you have not done before.
About Workplace Options
Workplace Options (WPO) is America's largest provider of work-life services. WPO's market leading products are recognized for their innovative web delivery, flexibility and affordable pricing. Through its emindhealth division, WPO offers network management solutions that help EAP's run their businesses more profitably and efficiently. WPO's United Kingdom division, Employee Advisory Resource (EAR), is a premier provider of work-life services in Europe and offers EAP clients access to an expansive network of behavioral health providers throughout Europe and the World. Learn more at http://www.workplaceoptions.com.
This press release was distributed through eMediawire by Human Resources Marketer (HR Marketer: http://www.HRmarketer.com) on behalf of the company listed above.
# # #