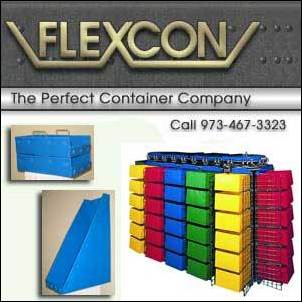 Springfield, NJ (PRWEB) December 20, 2006
Flexcon is pleased to offer the most versatile storage and material handling container ever designed on the market with its line of corrugated plastic containers. These containers offer unmatched size, style and color options available to meet almost any application's needs. Durability and lightweight design continue to add to the versatility of these corrugated plastic containers. Add to this the vast array of available accessories and the ability to customize the size, shape and color of the containers and the end result is a virtually limitless resource for storage and material handling needs.
Flexcon's corrugated plastic containers are available in over 6,000 sizes and over 20 different styles. Some of the most popular styles are hopper front dividable containers, basic style hopper front containers, stackable hopper front containers, straight wall dividable containers, nestable containers, horizontal carousel containers, heavy duty stackable containers, cases, delivery containers, pizza style fold together containers and the list goes on and on. Also, Flexcon makes partitions for almost any need that can help protect your product and maximize storage density. Almost every type of corrugated plastic container made by Flexcon can be made in ESD safe materials to help protect static sensitive products. Also, Flexcon can custom configure almost any container with foam cushioning to help prevent product damage in transit.
One of the greatest features of Flexcon's corrugated plastic containers is the ability to customize sizes, styles and colors with very little upcharge. This results in the ability to have containers that can hold almost anything and fit almost any need. Corrugated plastic containers offer such versatility at such a great price.
For more information on Flexcon's line of corrugated plastic containers, please contact Ken Beckerman at (973) 467-3323 or visit Flexcon's booth at ProMat 2007 in Chicago, Illinois from January 8 - 11, 2007.
Flexcon Container, Inc. is a leading American manufacturer and provider of totes and containers for manufacturing, distribution and warehousing applications. For more information or full catalog on Flexcon Container, call (973)467-3323 or visit the Flexcon web site at http://www.flexcontainer.com.
# # #