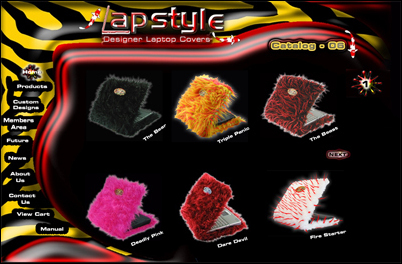 The products available from Lapstyle.com aren't just laptop computer covers, they're serious fashion statements
Van Nuys, CA (PRWEB) December 20, 2006
Except for the occasional bumper sticker, Henry Elgrissy saw a world filled with plain, boring colored laptop computers. In an age when many consumers sought to express themselves by accessorizing common tech gadgets like iPods and cell phones with distinctive clips or colorful decorations, he felt that cool laptop covers should have their own place in the market.
In early 2006, Elgrissy pounced on the opportunity and launched Lapstyle.com, an online store selling laptop computer covers in outrageous styles. With a dozen designs of cool laptop covers available at the outset, he offered breathable materials that ranged from bright, furry shag to silky animal prints. Lapstyle initially directed its marketing efforts toward female high school and college students, but soon discovered that the products were gaining popularity in a wide demographic spread. Since the launch of the website, Lapstyle.com has sold more than 40,000 units worldwide.
"The products available from Lapstyle.com aren't just laptop computer covers, they're serious fashion statements," explains Elgrissy. "They're ideal for geeks who dare to come out of their shell!"
The Lapstyle designer laptop covers are constructed from breathable materials that allow air to flow freely. Elgrissy and Lapstyle.com have conducted lab tests on several brands and models of laptops. As long as the laptops did not have any previous issues with over heating or poor performance, the cover did not cause any damage. However, as a precaution, Lapstyle recommends that if your laptop has or could have overheating problems currently, then you should service it before using any laptop cover.
In addition to a growing selection of laptop computer covers, Lapstyle.com will offer designer iPod covers, clips and belt accessories. The site will also feature MPpillows, colorful and fashionable pillow covers with high-end speakers built into the fabric for convenient plug-and-play use with iPods and other portable music players. Elgrissy hopes to continually expand the company's offerings with new accessories and innovations that make it easier for everyone to express their personalities through technology and fashion.
The news section on Lapstyle.com is being frequently updated with exciting developments, including the products' expansion to Amazon.com and the launch of its nationwide television spot, which can also be viewed online. The site features a video slideshow illustrating the installation procedures for the designer laptop covers and a Members area where Lapstyle members will soon be eligible to win free laptop covers and laptop computers with no purchase necessary. The site will eventually launch a new section where visitors can design and build their own custom laptop covers.
To view the entire available inventory of cool laptop covers and other fashion accessories for gadgets and technology, please visit Lapstyle.com.
About Lapstyle.com:
Founded in DEC 2005, Lapstyle.com offers a growing range of outrageously styled designer laptop covers and other fashion accessories for common gadgets and technology. Lapstyle.com features secure ordering, multiple photos of every available design and a members area where Lapstyle members could win free laptop covers and more exciting products. New laptop cover designs and accessories for emerging gadgets are constantly in development.
###