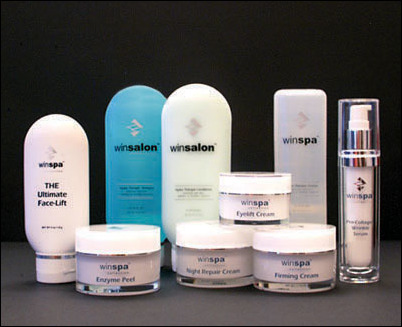 I really like the WINSalon™ Collection
Plano, TX (PRWEB) December 21, 2006
Ralph Oats and Cathy Oats, Founders of Wellness International Network Ltd. (WIN), an undisputed leader in the health and nutrition industries, are pleased to expand the availability of its new anti-aging skin-care line, WINSpa™ Collection and new and improved hair-care line WINSalon™ Collection to South Africa.
The innovative WINSpa™ line uses the latest cosmeceutical technology to wipe away the signs of aging and rejuvenate a youthful appearance naturally. "I have been using the WINSpa™ Collection and WOW!!! Everyone comments on how well I look," shares Gustavee from South Africa. "The Enzyme Peel is amazing, it makes my skin glow and feel so much softer. The Pro-Collagen Wrinkle Serum is a winner. I can definitely see an improvement in the deep frown line that I had! Like a salon treatment at home. I am very happy with my results." Men are also enjoying the benefits of this exciting new line. "I'm noticing a huge difference under my eyes with the Eyelift Cream. I tend to be very puffy with dark circles in this area. I've been using this product consistently since May and my wife and I have noticed the puffiness is almost gone and the dark circles have decreased," says Jeff from California.
Experience the remarkable effects of WINSpa™ Collection which includes Enzyme Peel, Pro-Collagen Wrinkle Serum, Eyelift Cream, Firming Cream, Night Repair Cream, THE Ultimate Face-Lift and Hydra Therapie Cleanser. An exclusive line of treatments with clinically proven ingredients that work in synergy to make a visible difference in the way you look today... and tomorrow. In a short time, skin looks smoother, more lifted and virtually crease-less. No needles, no surgery, just results.
WINSalon™ Collection's Hydra Therapie Shampoo and Conditioner are enriched with aloe vera, minerals, vitamins and draw upon one of nature's best moisturizers, Brazilian seaweed. The combination of ingredients provides an intensive hair-care treatment of gentle cleansing while restoring you hair's natural moisture and PH Balance. These exciting new products are designed for all hair types and will leave hair soft, smooth, shiny, manageable and full of body. "I really like the WINSalon™ Collection," shares Janice, from Texas. "I immediately noticed a difference in my hair after using the Hydra Therapie Shampoo and Conditioner. My hair feels soft and it doesn't have that dried-out feeling, it feels like it does the day I get my hair done professionally!"
On top of making your hair look and feel great, the product packaging of WINSalon™ Collection is geared for today's hair-care industry and its consumers. "After 20 years in the beauty industry, I've seen a lot of packaging and what I like about WINSalon™ is the clean look, it's sought after in high-end salons and day spas," says Micheal, a former hair- and beauty-care professional from California.
Unleash your natural beauty with the WINSpa™ and WINSalon™ Collections. These remarkable, anti-aging lines are available now in South Africa, United States, Netherlands, Belgium, Spain, United Kingdom and Canada. Visit winltd.com and learn more about WIN's many other results-oriented products today.
About Wellness International Network, Ltd., (WIN)
A privately held company specializing in health and nutritional products, Wellness International Network, Ltd. is headquartered in Plano, Texas, with its European affiliate, WIN Worldwide BV, located in Hoofddorp, Holland and its South African affiliate, Wellness International Network S.A. (Pty) Limited, located in Johannesburg, South Africa. Founded in 1992 by Ralph Oats and his wife, Cathy; WIN operates in many countries throughout North America, Europe and Africa, and is far and away the forefront leader in global network marketing. Wellness International Network's complete nutritional line is listed in the 2007 edition of the Physicians' Desk Reference® (PDR®) for Nonprescription Drugs and Dietary Supplements, the authoritative reference for health care professionals for decades, and a number of products have been reviewed by the National Institute for Public Health and the Environment (RIVM) in The Netherlands based on International Olympic Committee (IOC) standards on behalf of The Netherlands Olympic Committee (NOC) and The Netherlands Sports Federation (NSF). Products reviewed are now listed on the 'white list,' a list of products considered safe to use by top sports athletes from all over the world. Learn more about why "It Pays to Live Well" at winltd.com.
# # #