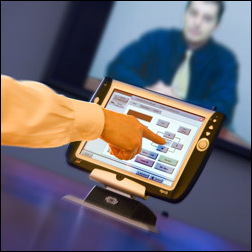 The CRN Fast Growth 100 recognizes solution providers who have experienced a significant increase in business, and those who make the list have demonstrated the ability to excel and innovate in their field while maintaining the highest level of customer satisfaction
Hauppauge, NY (PRWEB) December 21, 2006
IVCi, LLC (http://www.ivci.com), a leading integrator of enterprise collaboration solutions, including video conferencing, audio visual integration, streaming, Web conferencing and managed conference services, announced today that it has ranked number 84 on CRN's Fast Growth 100 list for 2006.
CRN, the world's leading provider of reseller channel news for VARs and technology integrators, identified the 100 fastest growing solution provider organizations across all specialty areas and business models.
IVCi attained its ranking with net sales of $41.7 million in 2005, which represents growth of 71%. "The CRN Fast Growth 100 recognizes solution providers who have experienced a significant increase in business, and those who make the list have demonstrated the ability to excel and innovate in their field while maintaining the highest level of customer satisfaction," said Dan Neel, Senior Editor of CRN.
"IVCi has achieved tremendous growth due to our unique ability to provide our customers with an enterprise collaboration environment that is truly well-managed. It is a tribute to our management's direction, as well as our employees' dedication. I want to thank CRN for recognizing us," said IVCi President Robert Swing.
IVCi has made significant investments in people and technology in an effort to provide its customers with a complete collaboration solution. "While many companies in our industry offer point products, IVCi can provide full life cycle collaborative services," said Senior Vice President of Sales and Marketing Charlie Macli. These services include AV design, implementations, onsite and remote maintenance services, overlay video network, managed conferencing services, and outsourced staffing.
About IVCi:
IVCi, LLC (http://www.ivci.com | http://audiovisual.ivci.com) is a leading integrator of managed enterprise collaboration solutions, including video conferencing, audio visual and managed conference services. From our headquarters in Long Island, New York, and branch offices throughout the country, IVCi makes conferencing and audio visual solutions easy to use, easy to manage, and easy to afford.
About CRN:
CRN provides Solution Providers and Technology Integrators with the crucial information and analysis they need to drive their company's sales. As an advocate for and voice of the Channel, Solution Providers turn to CRN first for immediate information. With more than 20 years of experience, CRN is the most trusted source for 117,000 channel professionals. CRN can be found on the Web at http://www.crn.com.
# # #