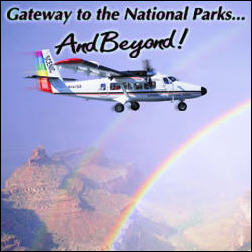 If a picture is worth a thousand words, then a video is worth a million.
Boulder City, NV (PRWEB) December 21, 2006
"If a picture is worth a thousand words, then a video is worth a million." Las Vegas Grand Canyon tour operator Scenic Airlines is betting that this new philosophy of on-line marketing will convert more prospects into passengers as they present a retooled version of their official website, Scenic.com.
Scenic Airlines, one of the oldest Grand Canyon air tour companies, had included over 30 tours on the previous version of their website. The new site narrows the selection down to 16 of the company's most popular tour packages. In addition to featuring new original content, Scenic.com now sorts the airline's Grand Canyon tours by destination (Grand Canyon South Rim or Grand Canyon West), contains links to Las Vegas and Grand Canyon hotel affiliates, and offers free vacation planning information for Las Vegas, Hoover Dam, Grand Canyon and other Southwest area attractions.
Perhaps the most striking element of Scenic.com's new look is the presence of video. An introductory video on the homepage begins with a personal greeting by Scenic Airlines' CEO, Mark Slack, and then segues into a brief history of the company narrated by founder John Seibold. The individual Grand Canyon tour pages feature a 2- to 2 ½-minute video synopsis that "walks" a would-be passenger through their tour from beginning to end.
With recent statistics indicating that over half of internet users regularly view online videos, the incorporation of video made perfect sense for Scenic.com. For many of the airline's passengers, a Las Vegas Grand Canyon tour will be their first experience in a sightseeing plane. Aerial footage of Hoover Dam, Lake Mead and Grand Canyon, which was actually shot from Scenic's 19-passenger Twin Otter airplanes, has so far proven helpful in clarifying expectations and answering questions.
Scenic Airlines has operated Las Vegas Grand Canyon Tours since 1967. The company recently moved its flight operations from the North Las Vegas Airport to the Boulder City Municipal Airport near Hoover Dam. They also have a base at Grand Canyon National Park Airport in Northern Arizona, where they provide Grand Canyon overflights and day tours to Grand Canyon West. For more information on Scenic Airlines' full line of Grand Canyon South Rim and Grand Canyon West Tours, visit http://www.scenic.com or call (800) 634-6801 or (702) 638-3200.
###