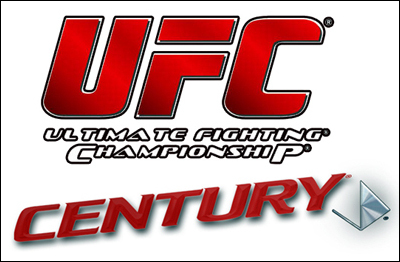 We are pleased to be working with Century to create new products featuring the hottest brand in sports today - the UFC
Midwest City, OK (PRWEB) December 21, 2006
Century, LLC the world's largest martial art supply company, today announced that it signed a licensing agreement with the Ultimate Fighting Championship® (UFC®) organization, to produce an exciting line of mixed martial arts products. The companies plan to launch the new line in retail stores and martial art schools by next fall.
Mixed martial arts (MMA) is an intense and evolving combat sport in which competitors use interdisciplinary forms of fighting that include jiu-jitsu, judo, karate, boxing, kickboxing, wrestling and other styles to their strategic and tactical advantage in a regulated match.
MMA is now sanctioned in over 20 states and UFC events have taken the country by storm with sell-out crowds and incredible pay-per-view telecasts. The Spike TV reality television series The Ultimate Fighter®, now heading into its fifth season, received top billing in its first season with the coveted 18-34 male viewers, and regularly enjoys ratings higher than the NBA, NHL, NASCAR as well as collegiate football and basketball in this key demographic. The Season 4 premiere of The Ultimate Fighter drew more males 18-34 than a MLB game, and more males 18-24 than an NFL pre-season game.
In addition, the popular UFC® Fight Night telecast on Spike TV, also reign in the male 18-34 demographic. The Dec. 13 UFC® Fight Night™, which was telecast from the Marine Corps Air Station Miramar in San Diego, drew nearly three times as many male 18-34 viewers than an ESPN telecast featuring two marquee NBA teams. In addition, a UFC® Fight Night™ telecast Oct. 10 on Spike TV drew more males 18-34 than anything on television -- broadcast or cable -- during that time period.
"The Zuffa team has done a remarkable job building the UFC organization. We recognize that the UFC brand has an unprecedented following, and is established as the authority in MMA competition. UFC is unquestionably one of the hottest and most recognized brands in the world," said Dan Bower, president of Century, LLC. "There is incredible demand by fans and athletes for UFC products and Century is excited to partner with Zuffa and bring this new product line to market."
"We are pleased to be working with Century to create new products featuring the hottest brand in sports today - the UFC," said Dana White, UFC President. "Fans are telling us they want more UFC products, and we are finding exciting new ways to meet the demand. This agreement with Century will bring an entire new line of UFC brand products next year."
Based in Midwest City, Oklahoma, Century is the world's largest manufacturer and distributor of individual contact sports equipment. Century has sold products to support martial arts, boxing, and kickboxing throughout the world for over 30 years.
About The Ultimate Fighting Championship
The Ultimate Fighting Championship® brand is the world's leading professional mixed martial arts organization and offers the premier series of MMA sports events. Owned and operated by Zuffa, LLC, and headquartered in Las Vegas, Nev., the UFC® organization produces approximately eight live pay-per-view events annually that are distributed through cable and satellite providers. In addition to its U.S. distribution, UFC fight programs are distributed throughout the world including broadcast on WOWOW, Inc. in Japan, Globosat in Brazil and Bravo in the United Kingdom. For more information, or current UFC fight news, visit http://www.ufc.com.
Ultimate Fighting Championship®, Ultimate Fighting®, UFC®, The Ultimate Fighter®, UFC® Fight Club™, Submission®, As Real As It Gets®, Zuffa™, The Octagon™ and the eight-sided competition mat and cage design are registered trademarks, trademarks, trade dress or service marks owned exclusively by Zuffa, LLC in the United States and other jurisdictions. All other marks referenced herein may be the property of Zuffa, LLC or other respective owners.
For more information on Century, LLC, please visit: http://www.centuryfitness.com
Contact:
Jessica Fisher
405-732-2226
# # #