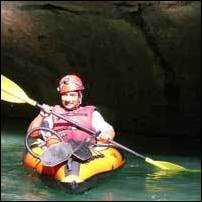 Belmopan, Cayo (PRWEB) December 22, 2006
Belize Travel Agent and Tour Operator Green Dragon Adventure Travel is pleased to announce the latest in its impressive selection of unique Inclusive Packages to Belize. The 5 Night Extreme Jungle Adventure is now offered in response to the ever growing popularity of Jungle adventures to the interior of Belize, Central America.
Green Dragon Belize Adventure Travel : The new 5 Night Extreme Jungle Package schedule :
Day 1 : Arrive in Belize City where we meet you and transfer you to the Belize Jungle Dome
Day 2: Actun Tunichil Muknal Caving and Jungle Hike. This package starts with a spectacular trip into the depths of the Belize Jungle. This is a premier Caving and Archaeological Adventure where you will enter the Sacred Caves and explore the history of this untouched Mayan Site. This cave system consists of a series of chambers, ending in a 300 by 50 meter Cathedral where sacrificial ceremonies once took place
Day 3: Kayaking Day Trip combining rapids with plenty of calm water. the first part of the Kayaking trip includes lunch at Clarissa Falls Resort where you will swim below Clarissa Falls. From there you will embark on a Full Day Kayaking Vacation Adventure.
Day 4: After breakfast you'll be transferred to one of the premier Adventure Centers in Belize for your hiking and Jungle Rappelling Adventure. You will hike for over an hour through the jungle to the infamous Black Hole Drop. 200 feet above the rainforest canopy that grows out from the basin. After an exhilarating abseil down into the jungle canopy (and listening to your own screams echoing back at you) and a mouth-watering picnic at the bottom you will discover the beautiful Cave at the bottom before hiking back out to base-camp.
Overnight Caving Option
plus option for an Overnight Stay in the Cave! After descending to the base of the cave you will enter deep inside the Mayan underworld where your romantic overnight caving adventure will begin with Dinner, Candles and a flower strewn bed.
Day 5: Cave Tubing and Zip Line Adventure Tour. Cave Tubing along underground waterways, cave walls glistening, showing off their crystal formations. The Mayans used these caves a thousand years ago and fascinating artifacts remain. Beautiful stalactites, stalagmites, and the very immensity of the cave itself will take your breath away. Followed by the 8 Platform Zip Line adventure for the real daredevils. Trained Guides take you from Tree to Tree, zip lining down the cables. This is a day you will never forget.
Day 6: Transfer back to Belize International Airport for connecting flight or equivalent transfer.
Not suitable for children, this package explores the Sacred Caves, Steamy Jungle, Wildlife Rich Rivers and deep Archaeological Mayan History of this untouched Central American region.
All this Adventure is based from the Belize Jungle Dome, a comfortable, tranquil home in the heart of the Cayo District, popularly known as the adventure center of Belize.
Former British Professional Football Player Andy Hunt, owner of the Belize Jungle Dome and Green Dragon Adventure Travel states the intentions of their tours "We provide very comfortable surroundings for our guests, with modern conveniences at the Belize Jungle Dome, allowing our guests to spend every day meeting local people, exploring the region, discovering the deep history and culture of Belize and of course having an adrenalin filled adventure on the way. It is our intention to take care of everything our guests need so that all they have to do is turn up at the airport and have fun"
This package can also be combined with extra days on the Tropical Islands where guests can relax and enjoy the beautiful beaches and reef system that Belize is also famous for.
For more information visit Green Dragon Belize Adventure Travel. Or visit the Belize Travel Blog
###