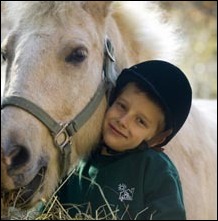 Through lectures by nationally known leaders in cognitive neuroscience, human- and animal-directed violence, animal-assisted therapy and humane education, interactive group work discussions and hands-on learning with children and animals on the Green Chimneys Farm, the attendees of this conference will be offered a profound and innovative learning experience
Brewster, NY (Vocus) December 21, 2006
A group of teens sets a live dog on fire in Texas. A group of teens in Detroit save a drowning kitten. Why do some children care for a cat in pain, while others seem to enjoy a random act of cruelty toward a helpless dog? How do children learn to have empathy - to have the emotional capacity to feel the pain of others?
As interpersonal violence, desensitization to violent behavior and random acts of violence seem to be all around us, concerned parents, teachers and communities are seeking ways to create a more caring environment and to raise children who have the capacity to feel for others. These issues are at the heart of the Humane Education Conference being sponsored April 20-22, 2007 by the American Society for Prevention of Cruelty to Animals (ASPCA) and Green Chimneys, a leader in animal-assisted therapy for children, with funding from The Kenneth A. Scott Charitable Trust.
Nationally known leaders in cognitive neuroscience, human- and animal-directed violence, animal-assisted therapy and humane education will discuss "Empathy, Animals, and Nature: Brain, Behavior and Beyond," at the two-day conference being held on Green Chimneys' 196-acre campus in rural Putnam County, NY.
"Increasingly, researchers are discovering that human behavior, such as the capacity to feel empathy for others, are brain based, wired into our very being," explained Michael Kaufmann, director of Green Chimneys' Farm and Wildlife Rehabilitation Center in Brewster, NY. "Therapeutic contact with animals and exposure to humane education have shown to be highly effective tools in helping children to develop their ability to be sensitive and emotionally attuned to others."
"Among the broadest and most overarching goals of humane education are the promotion of empathy and the demotion of violence," said Kaufmann. "We are especially interested in examining how the values of children, youth and adults are shaped toward animals through development of humane education curricula and programs. Key conference topics will include how to support the development of empathy, reduce violent behavior and examine the impact and power of experiential learning in classroom and field settings."
Within the conference, participants will explore how empathy is coded in the brain in an effort to better understand processes that promote empathetic responding. The group will investigate some of the most firmly held ideas about the types of experiences that promote violent behavior and some evidence, potentially, to the contrary.
This is an unprecedented continuing education opportunity for educators, mental health professionals, animal welfare professionals and others who are seeking to instill kindness and appreciation for animals in their audiences. In the course of the sessions, attendees will learn about preventing, intervening in or addressing the correlation between human and animal cruelty.
"Through lectures by nationally known leaders in cognitive neuroscience, human- and animal-directed violence, animal-assisted therapy and humane education, interactive group work discussions and hands-on learning with children and animals on the Green Chimneys Farm, the attendees of this conference will be offered a profound and innovative learning experience," said Kaufmann.
Speakers will include:
Suz Brooks, Psy.D.- Green Chimneys' farm psychologist,
Jean Decety, Ph.D. - Professor of Psychology at the University of Chicago and the College.
Ann Gearhart, Director of Humane and Environmental Education at The Snyder Foundation for Animals in Baltimore, Maryland.
Jane Greco-Deming - Director of Education at the Providence Animal Rescue League
Michael Kaufmann - Farm and Wildlife Director at Green Chimneys
Duane Jackson, Ph.D. - Animal behaviorist and Associate Professor at Morehouse College
Stephanie LaFarge. Ph.D., Senior Director of Counseling Services at The American Society for the Prevention of Cruelty to Animals
Randall Lockwood, Ph.D. - Senior Vice President for Anti-Cruelty Initiatives and Training for the American Society for the Prevention of Cruelty to Animals.
Gail F. Melson, Ph.D. - Professor of Developmental Studies in the Child Development and Family Studies Department of Purdue University
Marsh Myers - Director of Education & Cruelty Prevention for the Humane Society of Southern Arizona (HSSA)
Jeff Perrin - Psychology Instructor and doctoral candidate at the University of New Hampshire
Sheryl L. Pipe, Ph.D. - Senior Director of Humane Education at the ASPCA and the President of the Association of Professional Humane Educators.
Samuel B. Ross Jr., Ph.D. - Founder of Green Chimneys and managing director of The Friends of Green Chimneys
Pei-Feng Su - Co-founder of ACTAsia
Joseph A. Whalen - Executive Director of Green Chimneys
Stephen L. Zawistowski, Ph.D. - Vice President of Education for the ASPCA and adjunct Professor at the University of Illinois College of Veterinary Medicine.
The cost of the Humane Education Conference is $200 per person. For those registering and paying by January 15, 2005, there is a $25 early bird discount. The fee includes all sessions, meals on Friday and Saturday (continental breakfast, lunch and dinner) and an optional, informal continental breakfast on Sunday. Registration is due by April 1, 2007. Participants may register online at http://www.greenchimneys.org. Additional information on the conference is available from Elizabeth Cushingham at (845) 279-2995, ext 383 or ecushingham @ greenchimneys.org.
About the Sponsors: Founded in 1866, the American Society for the Prevention of Cruelty to Animals (ASPCA) was the first humane organization established in North America and today has one million supporters. The ASPCA's mission is to provide effective means for the prevention of cruelty to animals throughout the United States. The ASPCA provides national leadership in humane education, government affairs and public policy, shelter support and animal poison control. The NYC headquarters houses a full-service animal hospital, animal behavior center, and adoption facility. The Humane Law Enforcement department enforces New York's animal cruelty laws and is featured on the reality television series Animal Precinct on Animal Planet. Visit http://www.aspca.org for more information.
Founded in 1947, Green Chimneys restores possibilities and creates futures for children with emotional, behavioral, social & learning challenges. Headquartered in Brewster, NY, it is world renowned for its animal-assisted therapy program and operates a residential treatment center for children, an accredited special education school, a farm and wildlife rehabilitation center, an organic farm, a therapeutic riding program, a runaway shelter and community outreach center, Nature's Nursery and Hillside Summer Camp, group homes, the Good Friend mentoring program for youth, LGBTQ programs in New York City, programs and special events for the public, adult services programs in Connecticut and a variety of other programs. Each year, Green Chimneys serves more than 3,500 children and their families. More information on Green Chimneys is available on its web site: http://www.greenchimneys.org.
Contact: Deborah Bernstein - (845) 279-2995, ext. 109
# # #