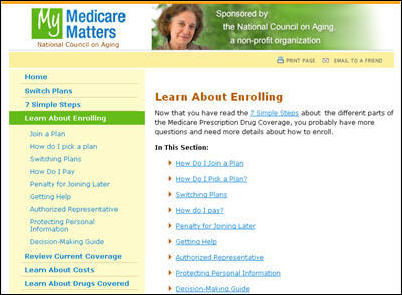 Washington, D.C. (PRWEB) December 22, 2006
As the deadline for this enrollment period approaches, My Medicare Matters is encouraging adult children to talk with their parents and loved ones about their Medicare Part D coverage and determine whether they have taken the necessary steps to ensure their prescription drug coverage for 2007. Family gatherings over the holiday season are an ideal time to talk about health care and take proactive steps to care for loved ones.
My Medicare Matters' award winning Web site - http://www.MyMedicareMatters.org - is a starting point for family members to talk through Medicare Part D prescription coverage. The site has been designed to make it easier for people to navigate the wealth of information about Medicare Part D and to make informed decisions about their Medicare prescription drug coverage. It features information on how to enroll, how to review current coverage, and how to apply for Extra Help to cover the prescription costs.
The Web site also includes a section that defines terms so that consumers can compare plans.
My Medicare Matters, sponsored by the National Council on Aging (NCOA) and supported by a grant from AstraZeneca Pharmaceuticals LP, dedicated to enabling eligible seniors to gain access to the critical information they need to maintain their health.
This press release was distributed through eMediawire by Human Resources Marketer (HR Marketer: http://www.HRmarketer.com) on behalf of the company listed above.
# # #