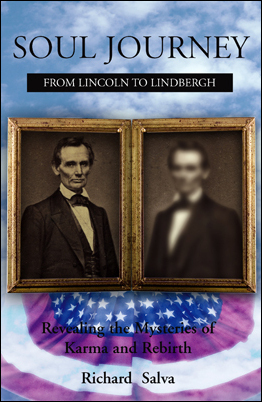 a thoughtful comparison of Lincoln . . . and Lindbergh.
San Jose, CA (PRWEB) February 1, 2006 —
About fifty years ago a great master of yoga, Paramhansa Yogananda, declared that Abraham Lincoln had been a Himalayan yogi in a past life, and that he was reborn as the famous aviator, Charles Lindbergh. But what do the histories show? Is there anything in the lives of these two men that validates Yogananda's statement?
In his new book, Soul Journey from Lincoln to Lindbergh , Richard Salva presents hundreds of similarities in the personalities, characters, and life circumstances of these two American icons. The connections span every aspect of the human condition—from the physical to the mental, emotional, spiritual and interpersonal—and provide convincing evidence that Lincoln reincarnated as Lindbergh.
By drawing parallels to the life and words of Lincoln, the author explains how past-life experiences influenced Lindbergh—thus presenting answers to questions about the aviator that have puzzled historians for decades: such as why Lindbergh fought so hard to prevent America from entering WW II.
More than one out of every five Americans today believes in reincarnation—yet few are aware of how past-life patterns affect them. Soul Journey fills this gap, by offering a vicarious experience of reincarnation. Through clear and persuasive parallels between the lives of Lincoln and Lindbergh, the reader discovers how the hidden laws of karma and reincarnation impact the events of his or her daily life.
Published in time for Lincoln's Birthday, Soul Journey addresses other important issues, such as the secret spiritual history of America's greatest president, including his past life as a Himalayan yogi; the hidden clues that reveal past lives; how greatness is achieved; and the spiritual principles behind the yoga postures that millions now practice.
Soul Journey has drawn praise from metaphysical experts. Yoga scholar Dr. David Frawley calls it "a fascinating account." Reincarnation authority Frank DeMarco describes the book as "highly interesting" and "a thoughtful comparison of Lincoln . . . and Lindbergh." And Swami Kriyananda, disciple of Yogananda, asserts that "it deserves to become a classic."
Soul Journey from Lincoln to Lindbergh (ISBN: 0977238105, 344 pages w/photographs and illustrations, 5.5" x 8.5" quality paperback) is available for $16.95 in bookstores, through Amazon.com, or by contacting Crystar Press at http://www.CrystarPress.com.
About the author:
Richard Salva has studied yoga philosophy and practiced its teachings for thirty years. An author and minister, he has lectured on reincarnation, yoga philosophy, and history in the United States and in Europe.
###