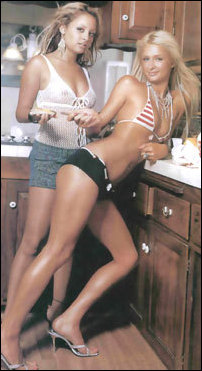 Beverly Hills, CA (PRWEB) August 11, 2006
From Vogue Magazine to Sports Illustrated to MTV, up-and-coming bikini designer Ashley Paige has brought a unique fashion updates to the 50-year old bikini style. The standard bikini look has been remade by Ashley Paige to include wild and creative influences that have never been seen before.
Paige's swimsuits have been making a splash, incorporating a freewheeling hippie vibe of hand-made knit fabric that has caught on with the Young Hollywood starlets such as Christina Aguilera, Britney Spears, Liv Tyler and the Hilton Sisters who have been seen sporting Ashley Paige bikinis.
Earthy hippie-chick style macramé and stretchy boho knits have been the main focus on Paige's sexy, barely-there bathing suits and dangerously low necklines.
Her shows are described as "rocking spectacles" by the fashion press, but Ashley Paige projects a level-headed approach to her business that shuns flashy hype.
This sober attitude also can be seen in her continued involvement with animal welfare issues. Paige maintains a passion for animal adoption that has even caused her to turn her studio into a pet-adoption center.
Beverly Hills People recently visited Ashley Paige's Hollywood headquarters at Studio 1616 to discuss the designer's approach to breakthrough bikini fashions.
Visitors are invited to check out the video interview on Beverly Hills People's fashion page or here. Ashley Paige is seen in her studio discussing her line of fun, colorful and oh-so hot bikinis as well as her passion for environmental and animal-welfare causes.
# # #