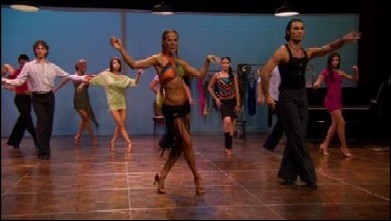 Our goal was to produce something challenging and fun for people of all fitness and dance levels, a product that would deliver results.
Santa Monica, CA (PRWEB) November 22, 2006
Learning to dance and get in shape just got easier with the new fitness and dance DVD series from Edyta Sliwinska and Alec Mazo (seen on "Dancing with the Stars."). Available at _Dancinglikethepros.com_, the fitness series consists of beginner-low impact, intermediate-medium impact, and advanced high-impact videos. T he dance instructional videos feature the Rumba, Cha Cha, Jive, and Samba.
"We've been teaching dance classes at our school for years but have received thousands of emails from fans asking how they can get in shape and learn to dance in their homes." We wanted to do something completely different than all other dance and fitness products in the market - something fun and upbeat with high production values." - Alec Mazo.
Functionally, the DVDs focus on improving cardio conditioning while toning abs, butt, legs, and arms. "Our goal was to produce something challenging and fun for people of all fitness and dance levels, a product that would deliver results." - Edyta Sliwinska.
The DVDs are available now - in time to give as holiday gift or for New Year's resolutions. However, they are not available in stores; they can only be purchased at _Dancinglikethepros.com_
Edyta will be touring with Joey Lawrence and the rest of the "Dancing with the Stars" team beginning December 19, 2006. "Edyta's teaching made the learning experience a lot simpler. I had to learn two brand new dances each week to perform in front of 20 million people. The pressure is extraordinary and Edyta made the learning fun and simple." - Joey Lawrence.
Alec won the first season of "Dancing with the Stars" with celebrity partner Kelly Monaco. "Alec made dancing fun and simple. His teaching method improved my dancing tremendously week to week. I had absolutely no training when we started and with his help we won the competition." - Kelly Monaco.
"Edyta's teaching made the process of learning a new dance every week a pleasure. Even with a rib injury. She's truly a brilliant instructor." - George Hamilton.
About the DVDs:
Who should be interested in this product? Anyone interested in learning how to Dance like the Pros! Whether you are a beginner, intermediate, or advanced, these DVDs can show you how to dance like a pro. There are three different versions:
DVD 1: FITNESS
The workouts are broken down into three sections. All sections are based on DanceSport (Ballroom) dances and include many influences from Jazz, Plyometric (athletic explosiveness) training and Yoga. You can choose to follow the full workout (30 minutes) or do individual segments (approximately 10 minutes each) to get up to speed.
Low Impact Workout - This workout is intended for those people who are new to dance. The 30 minute workout focuses on butt, leg and ab muscles. Dances included are: Waltz, Cha Cha and Jive.
Medium Impact Workout- This is a slightly more challenging workout at a quicker pace then the low impact workout. The 30 minute program is a great cardio workout to tone butt, abs, legs and arms. Dances of focus are Cha Cha, Samba, and Jive.
High Impact Workout -A challenging cardio workout for the fitness minded. This program will push you physically with plyometric exercises morphed into dance form. It is ideal for developing quick feet and explosive core. The areas of focus are butt, legs, abs, and arms. Dances include Samba and Jive. Length is 30 minutes.
The fitness workout has a unique interactive help feature for people who want to learn a step slowly - it provides a voiceover explanation and a different camera angle. When you see a help box appear during the workout in the lower right corner, you can press enter for a detailed explanation of the step. Once the explanation finishes, the program resumes the workout.
DVD 2: Dancing like the Pros
Dance Overview: This DVD focuses on Rumba and Cha Cha.
Rumba - is a slow tempo dance style that can be danced to any Lyrical, R&B, Jazz, or Pop music with a four count bar measure. If you can count 1 2 3 4 to slow music, you can dance the Rumba. Rumba is a perfect dance to learn if you are a beginner and have a tough time dancing fast steps. It does get more intricate as we progress in difficulty levels. Rumba is a perfect dance to learn for a wedding.
Cha Cha - is a fast tempo dance that can be heard in our mainstream music. Santana, Michael Jackson, Jennifer Lopez, as well as many others have produced music with a cha cha beat, which is 4 and 1 2 3. This dance is fun to learn if you want to have fun to some fast beats. It's a perfect fit for a club or a social event. Cha Cha has a staccato rhythm and a lot of quick direction changes.
DVD 3: Dancing like the Pros
Dance Overview: This DVD focuses on Samba and Jive.
Samba - a rhythmical dance with a distinct bounce action that gives it a fluid movement. Shakira, Gypsy Kings, Outkast and many more artists created songs with a Samba beat which is 1 and 2 3 and 4. Samba is a great dance for clubs and social events. The body has a constant bounce action with a lot of hip movements.
Jive - combines swing and rock'n roll moves. Elvis, Ray Charles, Big Bad Voodoo Daddy, and many more artists created tracks with a Jive beat 1 and 2. This is a great dance to learn for quick arm changes. It can be performed at a relatively easy pace or at an increasingly difficult level. It's great for weddings, clubs, or social parties.
For more information on how to get these DVDs and learn how to Dance Like a Pro, visit Dancingpros.com
###