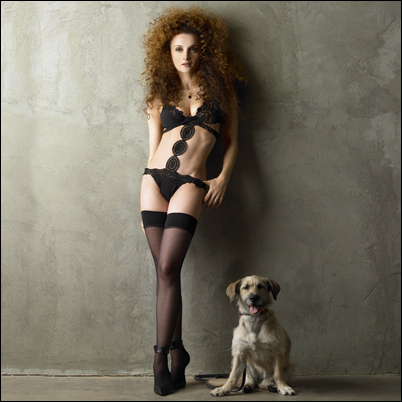 This is a one of a kind calendar
Los Angeles, CA (PRWEB) August 22, 2006
As the one-year anniversary of hurricane Katrina rapidly approaches, a new colorful 16-month dog calendar is dedicated to helping homeless pets in New Orleans, which have suffered from the loss of animal shelters and veterinarian hospitals.
Doggie's Angel, a charitable organization committed to the rescue of homeless animals, has created a unique dog calendar featuring some truly winning canines. The charity will contribute 60% of the net proceeds from calendar sales to the Louisiana SPCA for the benefit of a large number of animals displaced by hurricanes Katrina and Rita, according to Vincenza Blescia, founder and executive producer.
In New Orleans, 8,500 pets were displaced as Hurricane Katrina devastated the city. Those animals were left to fend for themselves in the flooded streets as overwhelmed volunteers, in desperate need of water, food and medical supplies, rescued as many as they could. One year later, many pets are still in desperate need. Blescia, driven by her enormous passion and love for animals, decided that she had to do something to help these suffering, displaced pets.
In a typical year, LA/SPCA serves thousands of people and their pets through adoptions, spay/neuter services, feral cat initiative, obedience classes, and community outreach programs. Last year's hurricanes destroyed the LA/SPCSA shelter and crushed its infrastructure. The LA/SPCA is currently operating out of a converted warehouse while they construct a new shelter that will cost approximately $8.5 million and take a up to two years to complete.
"Our mission Doggie's Angel,"said Blescia, "is to create unique, exciting and innovative products in order to raise as much money as possible for unfortunate animals that are abandoned, lost, or mistreated. The calendar is the first in our line of products."
Doggie's Angel is not the usual canine calendar. It has been designed to compete with the famous Pirelli tire calendar, with images that are a mix of erotic and artistic, raising the Doggie's Angel to a level far above the typical pinup calendar. Doggie's Angel is a celebration of feminine beauty, presented through the eyes of seven acclaimed Lionel Deluy, Suza Scalora, Shun & Heideki, Francis Hills, Jeff Xander, Daniel O'Neal, and Michael Maples. These gifted photographers, working with a gorgeous model have created images that define the very ideal of beauty.
"This is a one of a kind calendar," underscored Blescia. "There is great freedom. The images were created with no rules, no stereotypes. The photo shoot was an experience where everything flowed and was very natural."
Doggie's Angel is well on its way to becoming a cult object for people who love animals, photography and beauty.
The calendar can be order only by the official site: http://www.doggiesangel.com
Media Contact: Lanny Sher, PRA; 310-659-0380
###