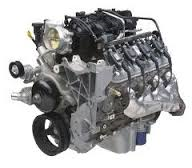 The Chevy brand of trucks is one of the major brands that is supported for replacement motors in our inventory and consumers now benefit from better prices this year
Cincinnati, OH (PRWEB) May 05, 2014
The Got Engines company is now discounting its 2007 Chevrolet Silverado used motors for all phone and Internet orders this year at http://www.gotengines.com/chevrolet/rebuilt-chevy-engines.html.
The lowered prices that are now in place apply to all engines that have been used in the 1500 series Silverado. The 4.8, 4.3, 6.0 and 5.3 editions are currently in stock and included with the new structured prices.
"The Chevy brand of trucks is one of the major brands that is supported for replacement motors in our inventory and consumers now benefit from better prices this year," said one Got Engines company source.
The Silverado editions that are in stock and reduced in retail price is one example of recent modifications to sale pricing this year. Lower sticker prices for diesel motors for the Ram trucks were announced earlier this month as a special promotion for 6.7 motor buyers.
"The truck engine brands that are for sale in our inventory include better prices across the board this year and are positioned to retain this sale structure through 2015," said the source.
The Got Engines company has added new inventory this year to provide consumers with better options for locating low mileage motors at lower than MSRP price points. The warranty program in place at http://gotengines.com/warranty.html is now included with each engine for sale.
About GotEngines.com
The GotEngines.com company is providing consumers with a dedicated source for locating vehicle motors available for installation at less than dealership costs. The company tools that are showcased for public access on the homepage are free of charge to use. The GotEngines.com company offers a toll-free phone center that is staffed by automotive employees who now deliver information about shipments, warranty lengths and other information essential for conducting motor research before purchase.