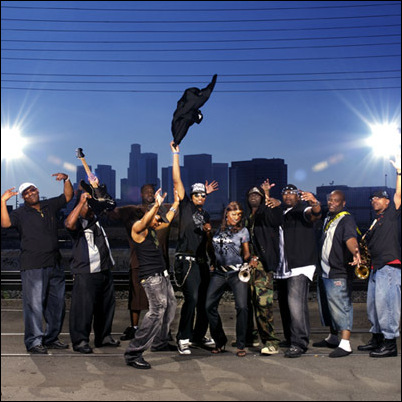 Los Angeles, CA (PRWEB) January 3, 2007
This season, ESPN's NBA telecasts will open with Wylde Bunch's new song "On Top" spliced together with NBA highlights. The Wylde Bunch have been busy this year with numerous collaborations in the sports world. Their sing-along hooks and big horn sections have led to sports arena anthems, sports video game soundtracks and live television performances during college football half-time shows.
The Wylde Bunch also wrote the opening theme song for the 2006 college football season on Fox Sports Net and contributed a song and video to the multi-platinum selling Sony PlayStation MLB video game series. Their music has also been featured on Madden 2005, NBA Live and NFL Street video games.
Wylde Bunch are an 11-piece, live alternative hip-hop group comprised of family members and long-time friends. With influences ranging from Sly and The Family Stone and Outkast to Green Day and Led Zeppelin, these South Central Los Angeles natives have pioneered a sound infusing old school elements of funk, soul, and rock within a hip-hop medium. Their lineup consists of three emcees, bass, drums, guitar, keyboards, a female trumpet player (who also emcees), sax, trombone and two background singers.
Best known for their energetic live shows, Wylde Bunch has shared the stage with the likes of Common, O.A.R and has toured with Black Eyed Peas. If there is perhaps a mis perception by some that live bands aren't a part of hip-hop, Wylde Bunch is seeing to it that myth is destroyed.
"On Top's" hard-hitting powerful chorus fit well with ESPN's NBA pre-game show hype. The track has an exploding chorus of triumph that acts as the backdrop to ESPN's amazing basketball highlights.
Wylde Bunch have been in the studio recording new songs and will also spend significant time on the road prior to releasing a full length album in the summer of 2007. "On Top" is available on their new self-titled EP from Surfdog Records. For additional information or a copy of the new Wylde Bunch release please contact Scott Seine.
###