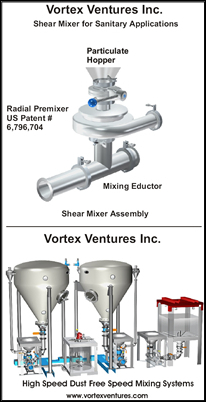 Houston, TX (PRWEB) January 1, 2007
Based on US Patent 6,796,704, issued on September 28, 2004, for a unique annular jet pump, Vortex Ventures Inc. has developed an advanced line of shear mixers for industrial mixing applications.
The "Radial Premixer" is an annular jet pump device used in industrial mixing applications to ensure complete mixing of liquids and particulates without air entrainment, clumps, fisheyes and microgels. The combination of a Radial Premixer and Lobestar® Mixing Eductor comprise a highly efficient shear mixer designed to completely eliminate mixing problems associated with conventional equipment on the market today.
The Lobestar® Mixing Eductor is a liquid center-drive jet pump, using a unique non-circular converging jet nozzle for a pressurized fluid to generate a high velocity to entrain an annular suction flow. The Radial Premixer is a liquid annular jet pump which uses a high speed converging annular jet nozzle to entrain a central suction flow. The Lobestar® Shear Mixer is formed by the combination of the Radial Premixer and the Lobestar® Mixing Eductor.
Pressurized fluid enters the prewetting chamber of the radial premixer tangentially and radiates outwardly to the wall of the mixing chamber. Powdered materials are introduced through a chemical hopper and are drawn into the eye of a strong vortex. As the particles are absorbed into the spinning fluid, the centrifugal force moves the mixture outward providing distance between particles as the "wetting-out" process develops. The particle spreading caused by the centrifugal action completely eliminates particle adhesion or clumping associated with conventional mixing devices. Additionally, the centrifugal force eliminates air entrainment in the polymer. Clumps, fisheyes, and microgels visible on the surface of a mixing tank are caused by inadequate mixing.
The radial premixer uniformly distributes the powdered particles in a thin sheet of liquid enhancing molecular dispersion and promoting rapid polymer activation and fast clay hydration. The rapid contact time in the radial premixer ensures low shear to the mixture resulting in maximum product performance.
Product Advantages Include:
Speed Mixing
Dynamic Shearing
Rapid Hydration
Uniform Blend
Maximum Performance
Stabilization
Dust Containment
Long Distance Delivery
Minimum Air Induction
No Moving Parts
Neither component of the Lobestar® Shear Mixer have moving parts, providing proven reliability.
A complete product line has been developed and is being used in several industries. A number of materials are available, including SS316 for food, beverage and cosmetic processing, meeting sanitary equipment specifications. High volume, dust containment mud mixing systems are available for the Oil and Gas Industry. Land Rig and Off-Shore models have been developed, installed and proven. Common Oil Industry uses include:
Hydration of Bentonite
Solubilization of Polymers
Barite Speed Mixing
Patent Information: http://www.patentstorm.us/patents/6796704.html
###