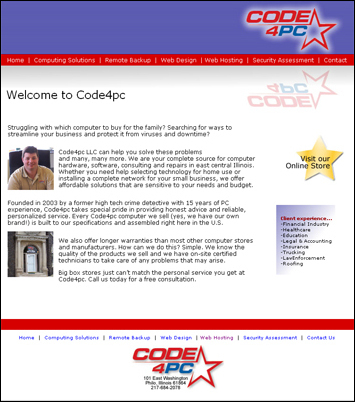 small enough to personalize and large enough to specialize
Philo, IL (PRWEB) January 2, 2007
How many companies can boast professional Web site design services provided by the same tech gurus who built their computers?
Not many, but that is exactly what is on the horizon for customers of Code4pc, LLC of Philo, Illinois. The computer technology company -- which specializes in remote backup services, affordable business Web site hosting and other computer products and services -- not only builds its own brand name personal computers, but also follows up with services to help individuals and businesses get the most function and productivity out of those custom PCs.
The range of PC products and professional Web design services provided at Code4pc.com mean that seed companies could potentially start up and grow into immensely successful corporations with Code4pc, LLC at the helm of their technology from day one.
Code4pc's remote backup services, the oft-neglected staple of everyday business security, are headed up by managing partner Dan Ault, a former detective whose specialty is high-tech crimes. His company is the first in central Illinois to offer this service, Ault said.
Using his computer security experience as a guide, Ault employs a system that secures businesses' backup information in a locked, fire-safe remote location nightly. It is the same security large mega-corporations have used for years, but tailored to businesses of any size and at a trimmed-down price.
The company's Webpage design and affordable business Web site hosting are the next natural steps in small business growth and development. In addition to these universal business needs, Code4pc offers corporate/banking penetration testing and a menu of other services for the daily computer user.
Ault's mantra of sorts, "small enough to personalize and large enough to specialize," guides his service philosophy and his relationship with his clients. Code4pc.com is, in some ways, an invested partner in his customers' businesses, working with each one with the same level of dedication and loyalty as any paid member of the staff.
"Code4pc's goal is to make every customer feel like they are our only customer," Ault said. "Code4pc is dedicated to providing personalized service in a manner that exceeds customer expectations."
About Code4pc, LLC:
Philo, Illinois-based technology firm Code4pc, LLC, specializes in offering affordable business Web site hosting and design, along with the reasonably priced remote backup services necessary for the security and success of a growing business. The tech company is headed by managing partner Dan Ault, a former law enforcement detective with a decade and a half of experience in high-tech crime investigation.
###