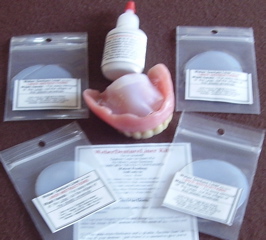 Customer Comment: Excellent Product! Saved me $100's! I will be back for more! Highly recommended.
Toms River, NJ (PRWEB) January 9, 2007
Originals By Weber, Terry L. Weber, of Toms River, NJ, announces immediate availability of the Weber Denture Liner Kit. This is a patent pending highly efficient, always soft denture liner compound designed as a do-it-yourself method of lining or re-lining loose dentures (false teeth) at low cost and with no mixing at all.
"Customer Comment: Excellent Product! Saved me $100's! I will be back for more! Highly recommended."
Denture liners are often needed to fill spaces between gums and denture because of normal gum shrinkage after extraction of natural teeth. This shrinkage can cause new, properly fitted dentures to get looser and looser as time goes by. Sometimes the loose denture causes sores or tender places on gum tissue thus making chewing or speaking a painful or embarrassing experience.
"Customer Comment: Thanks very much. Works fine. Fast shipment! Really liked it. Works better than any thing I have tried."
"Potential problems that may be caused by loose dentures:
After natural teeth are extracted the gum ridges in our mouths will (over time) shrink. This may cause new dentures to become loose. Jaw bones may also shrink, with result that jaws are no longer aligned properly. A loose, rocking or wobbling denture can cause raw sore spots on the gums. There could also be stomach problems from not chewing food properly. Loose dentures may sometimes cause the facial features around the mouth to change slightly in appearance."
The Weber Denture Liner Kit solves the problems of loose, painful and uncomfortable dentures at low cost. To use, the false teeth, the wearer (1) removes the denture, using fingers, lays the soft, flexible, easily moldable liner compound onto the (dry) upper surface of the hard plastic denture where the compound then self-adheres to the denture and remains firmly in place. (2) Denture is then put back in the mouth and, using bite-pressure the wearer adjusts it until there is no movement or rocking of the denture. (3) Denture is again removed, sprinkled with denture adhesive powder (supplied in kit) to hold denture securely in place. (4) Denture is put back into mouth and is then ready for comfortable all day use.
Contents of Regular Kit RK-4: Four (4) Weber Denture Liners plus one (1) bottle of denture adhesive, plus instructions. A special introductory Trial Kit TK-2 (see details below) is also available. One or more liners can be used in layers according to need to fill in all gaps. The easily removable and re-moldable liners can be re-used many times. The number of times one liner can be used is the wearer's personal choice. Suggest daily rinsing of the denture and liner with running water.
Weber Denture Liner Kit is available in two sizes: RK-4 (Regular Kit with four Liners) priced at $14.95 (plus $3.00 for First Class Mail shipping and handling within USA, $6.25 outside USA.).
TK -2 (Trial Kit with two Liners) priced at $9.95 (Free shipping within USA. Shipping outside USA $6.25) from Toms River, NJ.
For more information or to order, write to Originals By Weber, Attention: Terry L. Weber, 338-R Alabama Avenue, Toms River, NJ 08753 or go to website for complete details: http://www.yrret.stirsite.com/page/page/3455605.htm
About Originals By Weber
Established as Internet business in 2000. After retiring from our 40-year-old direct mail advertising business, Dorie and I volunteered as house builders with Habitat For Humanity's RV Care-A-Vanners. We enjoyed doing that for the last 9 years and worked on about 40 builds during that time. Now, I write articles, invent things, carve and do nautical paintings in my spare time. After having dentures made to replace my natural teeth, I Invented my Weber Denture Liner Kit. My goal , with this product, is to help others have much more comfortable false teeth at low cost. Our website can be seen at: http://www.originalsbyweber.com
###