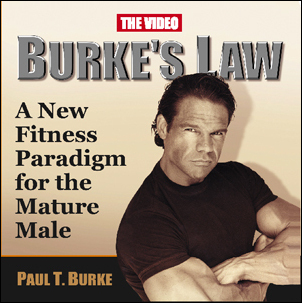 Marlboro, NJ (PRWEB) January 3, 2007
Paul Burke, the author, bodybuilder and fitness expert may not be a household name yet, but it isn't for lack of trying, and it seems only a matter of time before he is known by at least every man over 40 in the world.
Burke, who is 51 years old, and is considered one of the best natural bodybuilders in the world, especially considering his age, has just released his new Weight Training DVD, titled "Burke's Law," "The DVD" If the first half sounds familiar, it is because Burke has one of the hottest selling fitness books on the market with the same main title, and he has been offered exclusive distribution with one of the country's biggest distributors. And now, along comes this new, fantastic, educational, Weight Training and Fitness Training DVD.
"I wanted to put in action what it is written in the book "Burke's Law, A New Fitness Paradigm for the Mature Male. "After so many people asking how it is that I trained, I decided to show them for real," Burke says confidently. "That is the reason for this DVD," Burke says, "To motivate and to show how hard I train."
Burke, who began his truly legendary life story by joining the traveling carnival and circus at 16, won his first bodybuilding contest in 1980 (at the age of 24) while stationed outside of London, England, at RAF Woodbridge. Amongst the many talents that the champion bodybuilder has are principal acting roles in Julia Robert's breakout film, "Mystic Pizza"; more such roles with Robert Urich in "Spenser for Hire", and a long list of principals in National Commercials from playing an Olympic Weight Lifter in a Levi's commercial for the 1984 Games in Los Angeles, to being the key character in a spoof on Steve Reeve's "Hercules" character in Italian movies made for Wendy's.
Burke also was a champion arm-wrestler and set up the first British Arm Wrestling Federation on his way to becoming three-time, UK and European Champion. He also gave his spare time to on and off base personal helping Airmen to understand diet and weight lifting long before it was in vogue.
His acting ability really shines through in his new "Burke's Law Training DVD" where he speaks to the viewer about everything from what why a "curl-bar" is not for curling, to where the words barbell and dumbbell come from. Burke trains the way that he teaches and the viewer will be shocked to see him go at the weights and complete his entire chest and triceps routine in an amazing 17 minutes. Burke's impressive 21" arms, 18" forearms and 29" thighs are all nearly unbelievable at an age when most men have given in to Father-time.
"This DVD and the book are everything that I have worked my entire life for," Burke says. "The book is really doing well now, and the DVD is selling faster than I imagined. The word is that everyone really enjoys it and they get whatever questions that the book may have left people with unanswered---they are now answered in action form," Burke concludes.
"I have many other ideas that are coming," Burke says with a smile. "I am making an audio-book for those who don't, or like to read. I am also making a 'Forearm Flexor' that will help people who use their hands for work, their profession and most of all, for all those bodybuilders and weight-lifters out there who may or may not realize that you are only as strong as your grip is in upper body exercises."
"I also have something that is really major in the works also; something that will really be world-renowned, something along the lines of…I will save it for the day I announce this huge event that will challenge every man in the world to compete against one another for cash prizes and automobiles. Until then," Burke declares, "men can get ready for this major event by watching my DVD and reading Burke's Law."
Paul is also offering exclusive one-to-one Internet Diets and Training Programs, all based on his book and DVD. You get one full year of help from the World's best. There are a limited number of people which Paul will take on, so it is first come, first served. Go to
http://www.paulburkefitness.com to e-mail Paul and tell him you want to be a special training client.
To purchase "Burke's Law," "The DVD", go to: http://www.amzon.com or http://www.paulburkefitness.com
To purchase the book, "Burke's Law," A New Fitness Paradigm for the Mature Male,
Go to: http://www.Trafford.com/05-1850 or http://www.amazon.com or http://www.barnes&noble.com or
To reach Paul for any question related to fitness, you can do so by going to http://www.Paulburkefitness.com and e-mail him a question. He returns all e-mails.
###