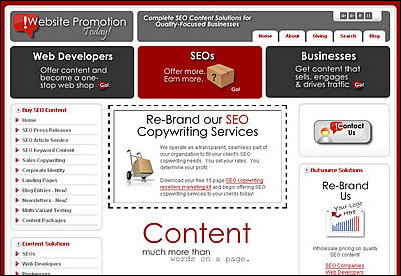 Some of our early adopters are making as much as a 300% profit by re-branding our services and they never invest a dime from their own budget
Westmorland, CA (PRWEB) January 3, 2007
SEO companies can now offer clients the benefit of their own in-house copywriting team. Website Promotion Today (WPT), a professional SEO copywriting company, will now allow SEOs to completely re-brand their entire suite of SEO copywriting services.
"We work with clients to identify content opportunities that will help improve search engine ranking and conversions on behalf of the SEO company. Our goal is to improve client search engine rankings through optimized content while allowing SEO companies to profit," says WPT president Christine O'Kelly.
To help Search Engine Optimizers launch their new copywriting services, WPT has released a free 15 page marketing kit available for download on the company's website at http://www.WebsitePromotionToday.com. The SEO copywriting marketing kit offers literature that sales reps and project managers can share with clients whose websites require optimized content as part of their overall SEO strategy.
In addition to on-page SEO copywriting, Search Engine Optimization companies using WPT's reseller plan can offer their clients:
SEO press releases
SEO distribution articles
Customized landing pages
Multi-variant landing page testing
Blog writing
Corporate identity pages
Resellers qualify for special price discounts and are encouraged to mark up SEO copywriting services offered to match their pricing strategy. "Some of our early adopters are making as much as a 300% profit by re-branding our services and they never invest a dime from their own budget," O'Kelly says.
O'Kelly explains that SEO firms generally charge their clients a set fee for monthly promotional content such as articles or press releases. WPT then works with the client directly and transparently on behalf of the firm to develop and distribute content on schedule.
Several speakers at SES Chicago spoke about the importance of SEO copywriting, yet this is an area where many SEO companies say they feel they can improve. Hiring a full-time copywriter can be tricky due to fluctuation in workload, while trying to track down freelancers can be hit or miss. For WPT content resellers, volume fluctuation doesn't result in missed deadlines or company's paying for downtime. Resellers simply pay for content as needed and the team reorganizes resources to ensure that deadlines are always met.
"Our main priority, aside from contributing to the efforts to increase search engine ranking, is to produce content that truly reflects the client. Lead copywriters at WPT take time to understand the products, services, philosophy, and customer base of each company before producing content." This key element, says O'Kelly, is one of the critical pieces missing from much of the SEO copywriting produced today.
"As search engine algorithms become more advanced and social media optimization plays a larger role in driving traffic, quality SEO content becomes increasingly more critical. We produce content that has genuine value not only in the way of increasing search engine ranking, but to the client's target audience."
Those interested can learn more about Website Promotion Today's reseller plan and download the free 15 page marketing kit from the company's website at http://www.websitepromotiontoday.com. No fee or application process is required to become a reseller; however companies must be providers of search engine optimization or web development services.
About Website Promotion Today: Website Promotion Today is an SEO copywriting company catering to SEO companies and web developers looking to provide added value to their clients. The company is passionate about it's commitment to helping businesses maximize their potential online.
###