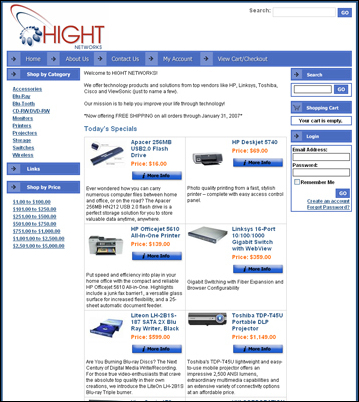 Our goal at Hight Networks is to help you make technology work for you
Inglewood, CA (PRWEB) January 3, 2007
A new online store is catering to computer geeks and newcomers alike with an impressive menu of products that reads like a "Star Trek" script. Hight Networks' computer offerings put the fledgling company at the leading edge of the technology boom.
Hight Networks launched its online store, Hightnetworks.com, with a full line of laptops, DLP projectors, DVD burners, Bluetooth headsets, Blu-ray technology and the best LCD monitors available on the market, as well as other products for the home or office.
"Our goal at Hight Networks is to help you make technology work for you," owner Akili Hight said. "Information Technology has exploded at such an accelerated pace over the last five years that it has been very difficult for end-users to keep up with the latest and greatest. That's where we come in, offering technology solutions that meet your needs at the most competitive prices."
To that end, Hight said, the company, based out of Inglewood, Calif., updates its products daily to keep up with the constant evolution of high-tech products and services: DVD burners, Bluetooth wireless keyboard and mouse, USB memory sticks, broadband routers and the best LCD monitors for home or office.
Adding a spark to an already charged electronics explosion is the introduction of the much heralded Blu-ray technology. The development has been touted by many tech experts as the next big thing in home and business computing and entertainment. One Blu-ray disc can hold up to 25 GB of data, compared to the 15-GB capacity of an HD-DVD or 4.7 GB on a standard DVD-ROM, making it an exciting new alternative to these data recording and storage standards. Fans of this innovation can find every Blu-ray-related product they'll ever need at Hightnetworks.com.
Along with the latest technology products, Hightnetworks.com also offers IT business consulting and desktop and server support to keep his customers tech-savvy. Hight gives small- to medium-size businesses the opportunity to tap into his expertise with free network consulting. His background includes a Master's degree in Information Technology, as well as years of experience in IT consultation.
The company is celebrating the launch of Hightnetworks.com with free shipping on all orders through Jan. 31, 2007.
About Hight Networks:
Hight Networks, based out of Inglewood, Calif., specializes in information technology products and services for the home user, or small- to medium-sized businesses. Its product offerings include printers and all-in-one units, Bluetooth products, storage solutions, Blu-ray technology, laptops and computer accessories, and the best LCD monitors for any situation. Hight Networks also serves its customers with IT business consulting.
###