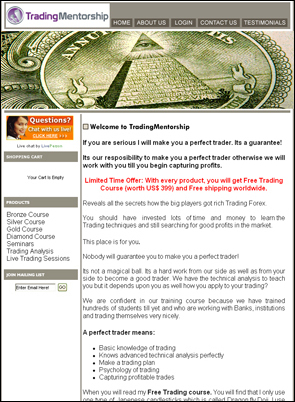 It's not a magic ball,
(PRWEB) January 3, 2007
Lured by the appeal of a 24-hour market and wider profit gains, there is a new breed of trader on the Foreign Exchange Market (FOREX) and the Internet is partially responsible. More and more people are lining up to learn how to be a trader on FOREX and discovering that the stock market isn't the only game in town.
FOREX is the international exchange market where currencies are bought and sold. It is a 24-hour market, beginning the day in Sydney and moving around the globe as each financial center's business day begins…Tokyo, London, New York. This is part of the appeal to investors and why more people are learning FOREX trading. With the aid of the Internet and electronic trading sites and brokers, people can trade at any time of day and can respond to fluctuations as they occur.
The largest liquid financial market, FOREX has a daily turnover averaging about $1.9 trillion (US Dollars). This helps the market to stay as free as possible from outside influence and manipulation. It is highly unlikely that a single investor could cause upheaval within any one currency.
The other reason why people are learning FOREX trading is the appeal of a quick buck. One doesn't buy and hold in this market. Trades are done quickly and constantly. Marginal trading is very attractive because investors can make large transactions with relatively small investment of borrowed capital.
One needs to fully understand the market before jumping in. Internet sites and training seminars help investors learn how to be a trader on this exciting platform and maximize their profits. Owner and President of TradingMentorship.com, Abhishek Varshney, is a 8-year veteran in Forex trading, and cautions against rushing into currency trading without the proper knowledge. "It's not a magic ball, " says Varshney. "Learning FOREX trading can be hard work. But with the right technical analysis, trading plan and strategy, one can begin to capture profits in no time."
While FOREX investing is rewarding, it is also risky. But, the ease of transaction and the lure of fast dollars keep them coming back.
For more information about FOREX trading courses, please visit Tradingmentorship.com.
About Tradingmentorship.com:
Since 2000, Tradingmentorship.com has provided its clients with newsletters, research analysis, seminars and live trading sessions to help them learn how to be a trader on the Foreign Exchange (FOREX). Owner and President, Abhishek Varshney has a Masters degree in Business Administration and eight years of experience in the industry as a trader. He is the author of "Secrets of FOREX Trading," which is currently available online at tradingmentorship.com.
###