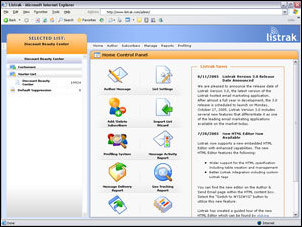 Customers want to feel like they're more than a number or sales invoice
Lititz, PA (PRWEB) January 3, 2007
Email direct marketing and click-through success depends on various factors - from mailing frequency to incentive and offer inclusion. But there are several key factors that consistently lead to positive opt-in email marketing campaign results.
One of the major components to email campaign success is a positive offline relationship. When customers know the sender on a personal level, they in turn become more interested in offers they receive. Businesses with smaller email direct marketing lists and, typically, stronger one-on-one contact with customers have found equally stronger mass email marketing response rate. These businesses usually send promotions that are highly targeted as opposed to general information for all audience members. Smaller lists, as a general rule, tend to gain greater response and click-through rates.
Similarly, Listrak has found that unsubscribe and bounce rates jump when opt in email marketing list size increases. This suggests that mailers with larger list sizes might not be targeting their audience as carefully or that email direct marketing list collection might be conducted in a more haphazard manner. Listrak sees opportunity for mailers with larger lists to understand the preferences and dynamics of their list.
Opt-in email marketing campaigns are more successful when sent by small distribution lists from local shops, galleries, retail shops and religious organizations, where patrons may know employees and managers by their first name. This success may be attributed to their ability to gather detailed customer preferences, like birthdates, age, marital status or sex. These preferences are easily integrated into email direct marketing letters, reminders and special offers complete with personalized messages.
"Customers want to feel like they're more than a number or sales invoice," states Ross Kramer, CEO of Listrak, a leading email marketing solution provider. "Listrak takes the important task of Customer Relationship Management (CRM) and automates it. We help clients build highly detailed databases with nearly unlimited input fields. Listrak also expedites and simplifies triggered delivery, such as a thank you notice ten days after purchase or discount offers on customer birthdays. So their email marketing communications are as targeted and successful as possible."
Listrak's targeted email direct marketing solution helps companies strengthen their lead retention rates. To learn more about the Listrak bulk email service, read email direct marketing articles, white papers and customer newsletter archives, visit http://www.listrak.com.
About Listrak
Listrak is a leading provider of hosted email marketing software that allows permission-based marketers to manage, send, track and grow their email marketing investment. Listrak services clients such as Daimler Chrysler, Motorola, L'Oreal and the Islands of the Bahamas from its Lititz, PA headquarters. Listrak was named the 2006 Small Business Technological Excellence Award winner by the Philadelphia Chamber of Commerce, a Top Fifty Fastest Growing Company in 2006 and 2005 by the Central Penn Business Journal and the 2005 Growth Company of the Year by the Technology Council of Central PA.
###