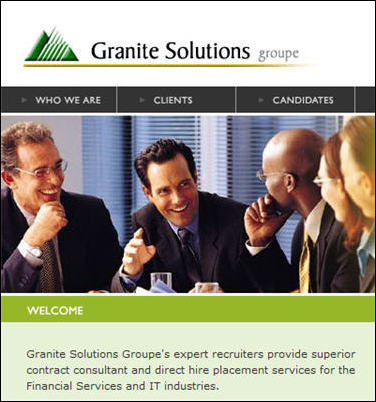 Our clients are telling us their average 2007 IT expenditure will be about 40-50 percent higher than 2006. About 70 percent will be spent on IT contractors and consultants
San Francisco, CA (PRWEB) January 3, 2007
Hiring in the IT sector has a rosy outlook for 2007 and beyond, and that's not just wishful thinking. The U.S. Bureau of Labor Statistics reported that five of the top ten fastest growing jobs between now and 2014 -- across any industry -- will be tech jobs. And federal spending on IT is expected to increase to $92 billion by 2010.
To put a finer point on such data, a significant percentage will be in the area of IT contractors and consultants, according to San Francisco-based Granite Solutions Groupe, a recruiting firm that focuses on the financial services and high technology sector.
"Our clients are telling us their average 2007 IT expenditure will be about 40-50 percent higher than 2006. About 70 percent will be spent on IT contractors and consultants," said John Henning, Granite's San Francisco-based Director of Business Development. He added the remainder will be spent on new software and hardware.
Those fast growing positions include network systems and data communications analysts, computer applications software engineers, computer systems software engineers, network and computer systems administrators and database administrators.
Why the open field for contractors? Henning explains there are very few cons when companies hire a contractor. When they're used appropriately and clear, strong contracts are in place, pros far outweigh any cons. Those benefits include flexibility of getting specialized talent when and where companies need it, limiting the length of the labor cost commitment and reduced management time requirements.
Also it gives companies the ability to get specialized talent affordably, relative to long-term compensation commitments that would be required for a similarly skilled full-time employee. Henning explains that the equivalent salary for a Project Manager billing at $140 per hour is roughly $208,000/year, adjusted for benefits. Many employers don't want to carry that kind of salary commitment on their budgets from year-to-year.
The only negative is that on the occasion that the client decides they want to offer the contractor a permanent role, the contractor is in a stronger negotiating position than the hiring firm and will demand a sweeter offer.
Granite's consultants have the domain expertise and execution/delivery track record of the larger well known high-end consulting firms, with significantly lower bill rates.
About Granite Solutions Groupe
Granite Solutions Groupe (Granite) is a San Francisco based recruiting firm that specializes in recruiting and placing highly-skilled senior-level Project Managers, Business Analysts, IT Managers and IT Contractors at global firms throughout the financial services and IT Market. They can be contacted online at http://www.granitesolutionsgroupe.com.
This press release was distributed through eMediawire by Human Resources Marketer (HR Marketer: http://www.HRmarketer.com) on behalf of the company listed above.
# # #