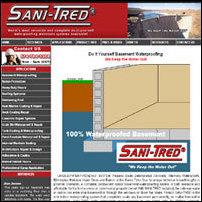 The reason SANI-TRED® products have been able to do what no other products have been able to do is because of their unique properties of Flexible Penetration®, Elongation Memory®, and Permanent Elongation® Technologies
Plymouth, IN (PRWEB) January 4, 2007
Early in March, of 2001 was the introduction of the first SANI-TRED® website. The net has proven to be the best place to advertise. You might have heard of the name SANI-TRED® while browsing the internet, magazine or newspaper ads but you didn't pay attention to what the ad was about. It turns out that SANI-TRED® has come out with a new web site that completely re-writes the traditional ideas of basement waterproofing. The enemies being made are with the competitors of the SANI-TRED® system who often charge as much as 10-to-15 times more without eliminating humidity in basements. SANI-TRED® system is a liquid rubber, adhesive, waterproofing material that actually seals basements permanently from the inside. Their motto is, "we keep the water out".
This practice of sealing a basement from the inside has normally been considered impossible by the main stream architectural community, mainly because of several factors. The first and most important factor is "negative hydrostatic pressure" and the second is "moisture vapor drive".
It seems that this type of interior basement waterproofing system has been attempted with many other coatings and paints countless times in the past in an attempt to waterproof basements on the inside and always with the same "negative" results. It seems the coatings are pushed off of the concrete by these mysterious and powerful forces of negative hydrostatic pressure (caused by ground water pressure) and moisture vapor drive causing the coatings to peel or flake off of the concrete in as little as 1-to-3 months resulting in continued leaking.
"The reason SANI-TRED® products have been able to do what no other products have been able to do is because of their unique properties of Flexible Penetration®, Elongation Memory®, and Permanent Elongation® Technologies" says Bill Emerick, SANI-TRED® research manager.
"The product line now known world wide as SANI-TRED® has been creating waves in the basement waterproofing market since 1989 and unlike other products that have tried and claimed to be able to waterproof basements from the inside SANI-TRED® has a perfect record of success, refuses to go away and knowledge of it's success is growing world wide", says Emerick.
"Our biggest problem", says Emerick, "is informing the public that it is possible to completely and permanently waterproof their basement on the inside, with SANI-TRED, and to disregard other so called waterproofing experts that say "it is impossible".
In my investigation it appears that the waterproofing establishment and SANI-TRED competitors do have envy of the success of the SANI-TRED® system. While browsing the internet I discovered an entire web search engine site at sani-tred.com, (being sure to include the hyphen), which is allegedly being used illegally in an attempt to market direct competitors of the SANI-TRED® systems. The first thought that struck me as I entered this site is that no one would try to copycat a system that was not successful and it appears that many of SANI-TRED'S competitors were doing just that by advertising on the site. The real SANI-TRED® web site address is sanitred.com, (without the hyphen).
The alleged illegal use of the registered trademark of SANI-TRED, on the fore- mentioned site, is in the process of arbitration litigation brought by the owners of SANI-TRED Ideal Products, LLC. Also during my investigation I found that there have been no law suits against the SANI-TRED systems when other basement waterproofing and concrete repair systems are normally plagued with law suits brought by unhappy customers.
In my browsing of basement waterproofing forums, the name of SANI-TRED is extremely derogated and defiled by conventional franchised waterproofing companies to the point of using vial slang and pornographic comments. Also in these forums, to my surprise, I've noticed that actual past customers come to the defense of the SANI-TRED bashing waterproofing experts which seems to anger them more.
In my experience this kind of hatred is usually born of deep envy or jealous greed. The strange thing about this type of behavior against SANI-TRED, by other basement waterproofers, appears to be unfounded because from what I understand, virtually anyone can purchase the materials and install them including and especially other professional basement waterproofers. "We don't want any animosity with any other group, company or service", says Emerick, "If the SANI-TRED bashers would only try the products they could see the results for themselves."
"SANI-TRED® has many other permanent waterproofing systems which include flooring, deck coating, swimming pool repair and radon mitigation but the crown jewel of the SANI-TRED® systems is a permanent indoor basement waterproofing system designed for the do-it-yourselfer, says Emerick.
The new SANI-TRED® web site has been upgraded and improved to include new graphics, multiple forms of site navigation, on-line ordering and even blog content pages. "Probably the best and most important part about the SANI-TRED® web site is it's large amount of useful information", says Emerick, "Customers can get all the information that they need from the web or they can call and talk to a live technician, during standard business hours, and have all of their questions answered with virtually no sales pressure, ever".
###