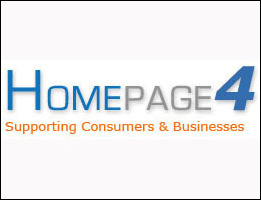 I cannot think of a single reason why any small business will not advertise on Homepage4
Oxford, UK (PRWEB) January 4, 2007
A new website has UK small business owners excited about their prospects for 2007. Small businesses are invariably listed low on search engines and business directories with little chance of engaging customers. Consumers, on the other hand, have difficulties knowing which businesses are trustworthy. These will change with the launch of http://www.homepage4.co.uk. Small businesses can advertise using unlimited text, pictures, audio and video with guaranteed equal exposure, links to websites and a robust customer feedback system.
The website uses a unique dynamic grid / list system to guarantee equal exposure. This is in stark contrast to other classified advertising websites or search engines where a business could be permanently listed on page 200 with little chance of engaging customers. The universal availability of video and audio is a first for classified advertising.
Businesses can advertise products, services and jobs. Every business can generate feedback keys for its customers. These are customised business cards containing two codes. Customers enter the codes on the website, rate the business 1* to 5* and leave feedback comments which are automatically linked to the advert. Users of the website have access to feedback ratings and comments and will use these as a basis for engaging with any business.
Adverts can be displayed in a single town, several towns or nationwide. There are no sponsored links, no priority adverts and no pay per click. There is no page 1 or 200, no # 1 or # 200 spot. Statistics including number of impressions, clicks, recommendations and customer messages are available to advertisers.
Homepage4 director Angela Ayuk noted that the problem for small businesses is lack of on-line exposure while consumers may have difficulties identifying trustworthy businesses. Homepage4 addresses both problems by guaranteeing equal exposure and implementing a robust and transparent feedback system. Once a customer has a feedback key, they know, and the provider knows that good service will be rewarded by good feedback. Poorly performing businesses will get bad feedback which will be good for other consumers and good businesses. The feedback system is rigorously monitored to prevent abuse.
Chartered accountancy firm ReesRussell is one of the first businesses to advertise on homepage4.co.uk. Jonathan Russell, partner at the firm said: "I cannot think of a single reason why any small business will not advertise on Homepage4".
At 88p per month for unlimited text, pictures, audio and video, guaranteed equal exposure, link to website plus customer feedback, even the smallest business can afford to advertise. Adding an advert takes about 5 minutes.
About Homepage4
Homepage4 Ltd is an Oxford based technology company started in 2006 by Obstetrician & Gynaecologist Dr Paul Ayuk and his wife Angela, a practicing midwife.
Contacts
Dr Paul Ayuk
Ms Angela Ayuk
http://www.homepage4.co.uk
Tel (44) 1993 778 509
###