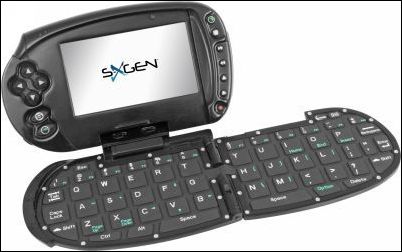 Virtually all UMPCs offer similar applications but all the gadgets in the world are worthless if they are frustrating to use. The S-XGen not only combines a variety of productivity-enhancing digital devices, but does so in a way that turns users into mobile powerhouses not thumb suckers. The unit's industry-leading eight hour battery life makes the S-XGen the first
Carson City, NY (PRWEB) January 5, 2007
A new Ultra Mobile Portable Computer (UMPC) offering a radically different design was debuted today at the Consumer Electronic Show (CES) in Las Vegas, Nevada. The S-XGen™ from Seamless Internet (OTCBB: SLWF) a publicly traded company, is the only UMPC of its kind to integrate all of the computing and digital functionality of other UMPCs in a design that offers a near full-size keyboard and an ultra-productive eight-hour battery life.
The S-XGen was created for serious business users who need convenient all-day access to powerful computing capabilities but are frustrated with lugging and juggling multiple devices that provide only two or three hours of on the go power. The lightweight, pocket-sized PC combines several digital products into a single, easy-to-access device. The unit's extra long battery life and fold-out keyboard makes the S-XGen a serious full-day work partner that puts an end to frustrating text messaging-style "dumb thumb" typing and battery power panic.
"Fingers are a terrible thing to waste -- especially when you have real work to do," said Al Reda, president and CEO of Seamless WiFi. "Virtually all UMPCs offer similar applications but all the gadgets in the world are worthless if they are frustrating to use. The S-XGen not only combines a variety of productivity-enhancing digital devices, but does so in a way that turns users into mobile powerhouses not thumb suckers. The unit's industry-leading eight hour battery life makes the S-XGen the first "panic-free" mobile device -- one that seriously addresses the real needs of today's road warriors whether they are on a plane, held up in a taxi cab or out in the field."
The S-XGen is a handheld device that eliminates the need for a separate laptop, cellular phone Tablet PC and PDA. WiFi, Bluetooth and tri-band cellular wireless technology as well as Ethernet connectivity come standard with S-XGen as does both USB and RJ45 input options. Built with an Intel PXA 270 Xscale™ 520 MHz processor the base unit includes 256MB of RAM and a 20GB hard drive. The S-XGen comes with Microsoft® Windows® CE 5.0 and is ready to run Microsoft Office® Mobile Suite (included).
The total size of the S-XGen is approximately 6.5 inches long by 3.8 inches wide and it weighs only 14 oz. The unit comes with a 4-inch inch TFT 470 x 280 resolution monitor / touch screen, a built-in 280 pixel web video camera and functionality buttons for gaming applications, camera and computing. The S-XGen is also uniquely designed with a Qwerty near full-size fold-out keyboard and a battery life rated at an industry high of 8 hours of use.
The MSRP of the S-XGen with Microsoft Office included is $1,400.00. Units are available for immediate delivery.
Seamless Internet will be demonstrating the S-XGen at CES Booth Number IP 255 and IP 271 at the Sands Innovation Pavilion.
About Seamless Internet
Seamless Internet (http://www.seamlessinternet.com/)in the fully owned subsidiary of Seamless Wi-Fi Inc., a Las Vegas, Nevada-based company focused on the development of next-generation wireless technology, encryption technology and proprietary peer-to-peer networking solutions. Seamless Internet provides wireless hosting technology for Seamless Wi-Fi and its other and clients and is the designers & manufacturers of the S-XGen UMPC. For more information on Seamless Internet, the S-XGen or other products and services offered by the company, contact James M. Farinella at 908-204-0004.
http://www.seamlessinternet.com/
# # #