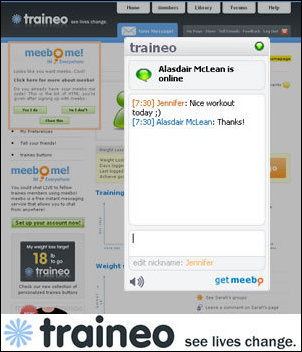 Partnering with meebo to offer real-time communication between traineo users and their contacts was a very logical step for us
Cambridge, MA (PRWEB) January 8, 2007
Traineo users can add the optional meebo me Widget to their profile page within minutes using a quick and straightforward setup process. Once the meebo me Widget has been activated, traineo users signed into meebo.com's web-based IM service can communicate with their traineo motivators and other contacts in real-time via their traineo profile page.
"Partnering with meebo to offer real-time communication between traineo users and their contacts was a very logical step for us," said traineo.com CEO Alasdair McLean-Foreman. "Our goals are to provide simple tools that motivate and support our users with their health and fitness goals. Communication is a large component of our functionality and the real-time communication that meebo's meebo me Widget now provides makes traineo an even more effective support network".
About meebo
meebo is the first Web-based instant messaging service that gives users, no matter where they are, a hassle-free way to connect to every major instant messaging service using only a browser. With meebo, there is no need to download and run multiple software products. meebo's investors include Sequoia Capital and other individual investors. more than 1,000,000 meebo sessions are initiated daily. The company is based in Mountain View, CA, and offers its free service at http://www.meebo.com.
About Traineo.com
Traineo.com is a free and intuitive weight loss application that offers effective exercise and diet visual tracking tools. More than a simple training log, traineo.com also provides members with a built-in support system through its social networking community. Members can choose up to four 'motivators' who receive weekly email updates outlining the member's progress toward his/her weight loss goals. Traineo.com also offers resources and tips from the world's leading health and fitness experts through a database of articles and within the active discussion forums. Traineo.com was launched in August 2006 by HDO Group LLC.
About HDO Group LLC
HDO Group LLC is a provider of innovative health and fitness technology and services via the internet. Founded by Alasdair McLean-Foreman, whilst studying at Harvard University and competing for England in Track and Field, HDO Group LLC was formed in 2000 with a mission to offer an exciting new dimension to consumers in health and fitness markets.
Technology by BluBolt
HDO Group LLC partnered with UK-based BluBolt (http://www.blubolt.com) to develop the technical components of traineo.com. For more information on the technology behind traineo.com please visit http://www.traineo.com/blubolt.
###