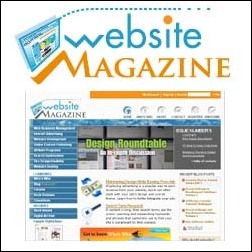 our mission is and will continue to be to help our readers and visitors succeed by providing helpful information about online business trends, industry insights and best practices
Chicago, IL (PRWEB) January 8, 2007
To more accurately reflect the content of its publication and the needs of its 120,000 Website owner/readers, Website Services Magazine has officially changed its name to Website Magazine (http://websitemagazine.com).
"Our objective with the name change is to more accurately reflect the content of our publication," said Editor-In-Chief Peter Prestipino. "The magazine's subscription growth over the past year has far exceeded our expectations and we simply felt this was the right time for the change and many other changes that will benefit the website owner and manager community that we will be announced soon."
Launched in November 2005, Website Magazine (formerly Website Services Magazine) is now the most widely distributed print magazine about how to achieve success with their Web presence. Offering a wide scope of informative articles and guidance on practical Web business trends for those seeking success with their Internet endeavors, "our mission is and will continue to be to help our readers and visitors succeed by providing helpful information about online business trends, industry insights and best practices," said Prestipino.
Website Magazine's seventh issue, scheduled for distribution in early February, will focus on Internet promotions and specifically the increasing importance of social and consumer generated media and how everyone from small online businesses to massive Fortune 500 corporations can tap this emerging market for their own benefit. The magazine will be distributed at Search Engine Strategies and Ad:Tech in 2007 as well as several other important industry trade shows.
Website Magazine has tapped premier talent in the Internet industry for its content and each and every issue contains advice and insights for website owners that make a positive difference to their bottom line. Articles are available at the Website magazine website (WebsiteMagazine.com) along with a running commentary of important issues each day on the weblog (available from the home page).
About Website Magazine:
Website Magazine is the only print publication catering exclusively to those responsible for Web success. Distributed quarterly via US Postal Mail to 120,000 recipients and over 20,000 additional recipients at Internet industry trade shows, Website Magazine represents one of the largest communities on the Web for website owners and operators of all levels.
Free subscriptions for qualified recipients and advertising rates are available at WebsiteMagazine.com.
###