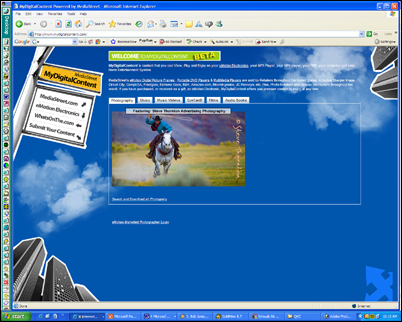 It's All about Your Images
Deer Park, NY (PRWEB) January 7, 2007
MediaStreet Inc., a leading independent manufacturer of innovative digital solutions for the photographic, music, arts and consumer electronics industries, has introduced an innovative web portal filled with rich content such as music, professional photography, videos, podcasts, audio books and very cool eye candy films.
With the proliferation of portable media players as well as this Holiday seasons winner of a new category, digital picture frames, MediaStreet offers its eMotion customers a growing library of digital content. MediaStreet has an established database of over 19,000 photographers that have been using its acclaimed Generations Ink and Papers. "It was natural for us to invite our customers to participate in a ground-breaking, cutting-edge program in which we offer world-wide exposure to their photography and fine art images" shares Norm Levy, president of MediaStreet. "We are thrilled to allow our eMotion Digital Frames, a growing gallery of professional photographs to choose from and enjoy rotating on their frames. Of course we all enjoy viewing our families and pets on our coffee tables and offices desks, but it is an attractive proposition to also be able to enjoy viewing Steve Thornton's exquisite Cowboy themed images." Be sure to check out the growing roster of photographers that are enjoying exposure on desktops and coffee tables throughout the world by offering stunning imagery for MediaStreet eMotion customers by going to http://MyDigitalContent.com.
Since developing the concept of MediaStreet's MyDigitalContent.com , music, music videos, professional photography and short films are being added to the site daily. Audio books, comedy and cooking recipes are set to follow.
Chuck D, founder of SLAMjamz Records, and head of legendary Hip Hop group Public Enemy has been intrigued and involved with the project is helping to shape the sister site called http://beyond.fm that will offer a growing catalog of downloadable music, music videos, live concert events, talk radio and streaming radio stations. You will be able to create your own personal radio station to stream to your computer 24/7 and to also enjoy offline on an eMotion Digital Frame or Media Player.
Beyond.fm already has available Chuck D's SLAMjamz catalog of music and videos. "Celebrating Public Enemy's 20th year anniversary of making music that makes a difference and makes an impact, our collaboration with MediaStreet and their beyond.fm project is a perfect match with parallel ambitions," shares Chuck D at the SLAMjamz studio while recording PE's Anniversary album.
About MediaStreet
MediaStreet, Inc. is an innovative, independent manufacturer, converter and supplier of nearly everything visual including inkjet papers, ink, multimedia digital display and storage products, for today's visual and digital world. The company's tagline, "It's All about Your Images" is a direct reflection of its commitment to images and imaging, whether printed on one of its archival quality papers using its award-winning, pigmented inks or shared and enjoyed by using any number of MediaStreet's digital media playback devices for sharing photographs anytime, anywhere. Since its existence in June 2000, MediaStreet has improved the quality of imaging life for more than 10,000 customers in 100 countries worldwide. MediaStreet will continue to pave the road of imaging innovation with a line of products that allow people to share pictures and memories in every conceivable category and in every conceivable place. http://MediaStreet.com http://MyDigitalContent.com http://beyond.fm
# # #