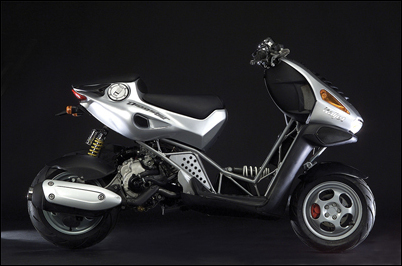 DIAMO is dedicated to the production and distribution of top-tier vehicles
Sugar Land, TX (PRWEB) January 8, 2007
There is exciting news for scooter enthusiasts who have a passion for innovative, award-winning design and top quality engineering. On February 17th, ITALJET will debut in the US market at DealerExpo and will be available through DIAMO USA soon thereafter.
ITALJET's presence in the US market will create quite a stir. The company is famous for its award-winning design and quality engineering. ITALJET is the only company that can boast having its scooters featured in both the Guggenheim museum and the Museum of Modern Art. It is fitting that DIAMO is carrying their line because DIAMO already imports and distributes its own line of Italian-designed scooters, some of which are quite attention-getting themselves, for example, the convertible DIAMO Velux. Mathu Solo, President of DIAMO said, "We are very excited about offering dealers two distinct product lines that are so high in quality. Our dealers can be confident that we are investing in the industry by introducing vehicles that will be strong sellers, resulting in a satisfied, growing customer base."
Three ITALJET models will initially be available: The Dragster, the Torpedo and the Griffon. After ten years of production, the Dragster has a loyal cult following, including its own user-driven websites. With very aggressive looks and unbeatable power, the Dragster is extremely popular worldwide and will soon take the US market by storm. The Dragster will be available in a 50cc 2-stroke version and a 250cc 4-stroke version. The Dragster can go 0-60 in 4.8 seconds with a top speed of 95 MPH, a true speed demon. DIAMO will also carry the Torpedo, a 150cc scooter that is one of the most beautiful scooters ever made. ITALJET combined their experience in superior handling with innovative design, creating a comfortable ride with modern sophistication. The Torpedo offers class-leading performance and engineering for the fashionable commuter. DIAMO will also introduce the Griffon, a 650cc V-twin sport bike. The Griffon 650 was modeled after the Griffon 900, a racing bike that catapulted ITALJET into a solid position in the world of sport bikes. The Griffon 650 is a naked bike with a distinctive open frame. Adrenaline will surge as riders roll on the throttle, feeling the pull of the bike's low-end torque. DIAMO will add the Roller Craft scooter later in 2007. The Roller Craft will be a newly design 50cc scooter that reflects a retro style, consumers can anticipate purchasing it next summer.
Changes at DIAMO will continue as the majority of the scooter line is revamped. The new scooters will incorporate today's latest styles, safety considerations, and technological innovations. New manufacturing facilities will be utilized that consistently deliver a superior level of quality. "DIAMO is dedicated to the production and distribution of top-tier vehicles," said Mr. Solo. "The changes that will soon be visible reflect our commitment to the market."
ITALJET USA is a division of DIAMO USA. Under ITALJET USA, DIAMO will distribute the ITALJET product line and will provide customer service and support. The new ITALJET line of vehicles can be seen at Dealer Expo, booth 5119, and will be available at qualifying DIAMO dealers nationwide soon thereafter.
About DIAMO
Founded in 2003, DIAMO is one of the fastest growing recreational product lines. DIAMO is the exclusive importer of DIAMO scooters and motorcycles and ITALJET scooters and motorcycles. The DIAMO brand was founded on the company's desire to bring exciting and reliable products to the US market.
The company's warehouses and dealerships extend across the United States and Puerto Rico. With administrative offices in Sugar Land, TX, the company's product line has grown to encompass vehicles, parts and accessories.
Please Note: 300 DPI color photos, ITALJET fact sheet, and company backgrounder are available. Please call Kathryn Davis (512) 567-5819 or for more information.
# # #