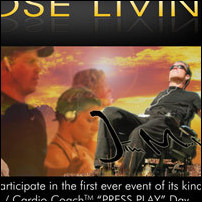 Cardio Coach is somewhat of an intimate experience because of the headphones and the way the workouts are designed
Virginia Beach, VA (PRWEB) January 8, 2007
On Jan. 27, exercisers from around the world will strap on their MP3 players and join together to support Jim MacLaren, a retired professional athlete and quadriplegic who has dedicated his life to motivating others.
VO2 Maxed Inc. will host the first Choose Living/Cardio Coach Press Play Day for San Diego's MacLaren as a way to generate energy around the world and support MacLaren's Choose Living Foundation.
The fun will begin on Jan. 27 at 12 p.m. when all participants will be asked to press play on their portable music player and workout.
"Since we anticipate this workout to be purchased by exercisers across the globe and in every time zone, we are asking participants to do the workout at 12 p.m. their time," said Sean O'Malley, president and voice of the Cardio Coach Guided Workout Series. "This way, the energy created from everyone will flow for at least a 24-hour period."
O'Malley is creating a special workout which will be available for purchase on the Cardio Coach website (http://www.cardiocoach.com) on Jan. 20. All proceeds from the MP3 workout will go to the Choose Living Foundation and the fundraiser will include several prizes including 10 DVDs of Emmanuel's Gift signed by both MacLaren and Emmanuel Ofosu Yeboah. Yeboah is a native of Ghana who obtained the bike that changed his life through MacLaren's Foundation. MacLaren is featured in Emmanuel's Gift with Yeboah.
Corina Brouder, an award-winning singer, will perform a specially created version of her #1 hit song, "Another Day" as part of the Press Play workout mix. "Another Day" was recently used to promote the hit television show, "Sex and the City" among other popular television shows on WGN.
O'Malley created the Choose Living/Cardio Coach Press Play Day as a way to support Jim MacLaren and his charity and share his energy worldwide.
"Life is full of growing pains and the truest test is how we deal with adversity," O'Malley said. "To say this is easy. To do it, to live it, that's something few of us will ever experience. It is the truest test of all. Without a doubt, Jim is an extraordinary man and has much to share with all of us."
MacLaren and his Choose Living Foundation are well known throughout the United States. MacLaren received the 2005 ESPY Arthur Ashe Courage Award, and the IDEA Health and Fitness Association awarded him their prestigious Fitness Inspiration Award in 2004. He's been featured on The Oprah Winfrey Show and The Today Show as well as in newspapers, on television shows and in magazines such as ESPN, the Orlando Sentinel, and Sports Illustrated.
"I feel blessed that I have been able to help people through my words and actions and by serving as a role model for overcoming adversity," said MacLaren. "Through the Choose Living Foundation I hope to also be able to contribute financially to these great organizations to make a difference in the lives of people."
Founded in 2005, the foundation was established to support MacLaren's philanthropic work and to allow him to contribute his time, energy, resources and exposure to help people in need across the world.
The non-profit organization also supports a variety of worthwhile charities including the Challenged Athletes Foundation which provides funding and equipment to allow challenged athletes to live active, competitive lifestyles and Camp Good Days and Special Times, a non-profit organization dedicated to improving the quality of life for children, adults and families whose lives have been touched by cancer and other life challenges through summer camping experiences and other year-round events and activities.
The Choose Living/Cardio Coach Press Play Day will directly benefit MacLaren, his foundation and the causes it supports. O'Malley also hopes the experience will spread MacLaren's positive energy and tenacious spirit.
"Cardio Coach is somewhat of an intimate experience because of the headphones and the way the workouts are designed," O'Malley said.
"The thought that a large group of people can come together without boundaries and tap into the same energy is what makes this exciting for me. The message provided by Jim will resonate with everybody participating. Knowing that a collective consciousness will be exposed to such positive energy is an incredible feeling."
The Cardio Coach audio guided workouts were initially created by O'Malley to help his personal training clients overcome the boredom associated with cardiovascular exercise. After receiving positive feedback, he acquired a patent, hired Todd Washburn, a professional musician, and began selling the workout series on the Internet in 2002, making Cardio Coach the first Mp3 downloadable workouts available. With customers in more than 70 countries across the globe, Cardio Coach has become the most popular and highly rated workout series of its kind. Available as MP3 downloads or CDs, Cardio Coach is an interval training workout designed for any cardio activity, any fitness level and for anybody.
For more information about the workout, please go to http://www.cardiocoach.com.
For more information about Corina Brouder, please go to: http://www.corinabrouder.net
For more information about Jim MacLaren, please go to http://www.jimmaclaren.com
###