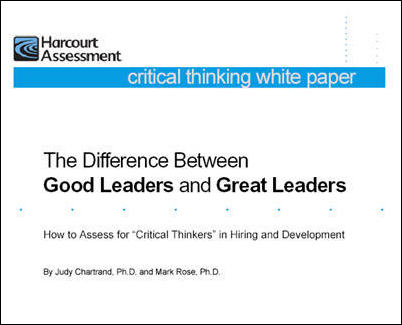 (PRWEB) January 8, 2007
SAN ANTONIO, Texas. / January 8, 2007 – Critical thinking is a necessary skill for great leaders; however, it's difficult to identify this elusive trait before a person assumes a leadership role. To address this need, Harcourt Assessment has released a new research paper titled, The Difference Between Good Leaders and Great Leaders: How to Assess for Critical Thinkers in Hiring and Development.
The free white paper defines the key elements of critical thinking skills, explores the role of critical thinking in talent management, and illustrates how assessment tools are vital for effective management selection. The paper is available for download by visiting Harcourt Assessment.
"A good resume or a degree from an esteemed school is no guarantee that a candidate possesses key critical thinking skills that steer organizational strategy and decision making," states Michael Pilnick, SVP, Harcourt Education. "Today's HR professionals can assess critical thinking skills using a variety of methods."
Many companies incorporate critical thinking as an important talent differentiator in their employee selection, high potential and succession planning programs. Critical thinking and related factors for leadership success can be assessed objectively and effectively, providing an advantage for hiring managers to make strategic hires—and make the most of their current employee pools as well.
"Leaders who consistently make wise decisions or see opportunities that others miss provide the direction that every company needs," adds Judy Chartrand, Director, Talent Assessment. "Critical thinking is a differentiator, and as such, it should play a prominent role in both the selection and the development of supervisors, managers, executives and individual contributors."
Psychometric tests are the most practical, timely and cost-effective method of critical thinking assessment due to their ease of use and quick results. Harcourt's Watson-Glaser Critical Thinking Appraisal test is one of the most widely used and respected psychometric tests in the market, offering insight into how effectively someone draws inferences, recognizes assumptions, deduces and interprets information, and evaluates arguments.
For more information on Harcourt Assessment, visit http://www.AssessTalent.com.
About Harcourt Assessment
Based in San Antonio, Harcourt Assessment is a leading provider of high-quality assessment instruments and testing programs used by educators, psychologists, speech-language pathologists, occupational therapists, human resource professionals, admissions and credentialing professionals, and businesses. With 85 years of experience in the assessment field, Harcourt Assessment uses a combined approach of measuring an individual's work style and abilities to help their clients, including half of the Fortune 500, optimize their hiring process. The company is a unit of Harcourt Education, which is the global education brand of Reed Elsevier Group plc (NYSE: RUK and ENL). Reed Elsevier is a world-leading publisher and information provider operating in the science and medical, legal, education and business-to-business industry sectors.
# # #
This press release was distributed through eMediawire by Human Resources Marketer (HR Marketer: http://www.HRmarketer.com) on behalf of the company listed above.