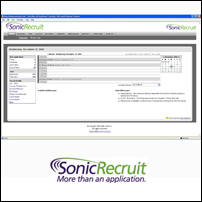 The fourth quarter caps another year of record growth for us
Vancouver, BC (PRWEB) January 9, 2007
Cytiva Software Inc. (CRX:TSX-V), a leading provider of on-demand recruiting software solutions, announced today that the Company closed Q4 2006 with record new contracted business. New contracts were up more than 20% over Q3's previous record-setting mark. In addition to new contracted revenue, Cytiva achieved a 96% renewal rate on existing contracts renewing in the third quarter.
New contracted business will be reflected in the Company's first quarter financial statements beginning January 1, 2007. Of the new contracted business, 50% will be recognized over the next 12 months with the remaining 50% being recognized over the subsequent 24-36 months.
For the period ending December 31, 2006, Cytiva achieved several milestones which solidify its position as the emerging leader in mid-market talent acquisition software.
Highlights of Cytiva's Q4 2006 results were:
•YTD sales up 144% over fiscal 2005
•35% revenue growth (estimated)
•Record quarter for new contract value (over $1.2 million)
•Fourth consecutive quarter of quarter-over-quarter growth
•12 new clients added
•96% renewal rate for trailing quarter
"The fourth quarter caps another year of record growth for us," said Jason Moreau, president of Cytiva Software. "The fact that our 06 sales were just about two and a half times as much as 05 further validates our mission of bringing world class recruiting software to the mid market, without the world-class price."
About Cytiva Software Inc.
Cytiva Software Inc. (CRX:TSX-V) provides innovative recruiting products and services to mid-sized and Fortune 500 companies. With its flagship product, SonicRecruit, corporations can automate their recruiting departments and customize their corporate career sites. SonicRecruit, a premier applicant tracking system, improves recruiting effectiveness, speeding up the hiring process and reducing cost per hire. For more information, visit http://www.sonicrecruit.com
CONTACT:
Ian Alexander
510-984-1986
The TSX has not reviewed and does not accept responsibility for the accuracy or adequacy of this news release, which has been prepared by management.
This press release was distributed through eMediawire by Human Resources Marketer (HR Marketer: http://www.HRmarketer.com) on behalf of the company listed above.
# # #