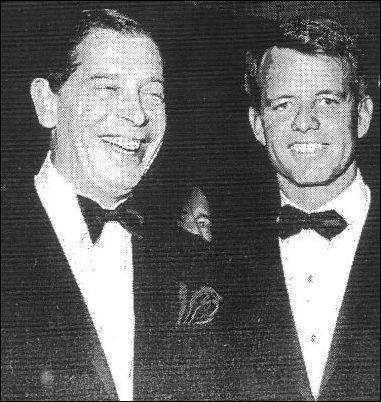 ...an explosive motion picture experience...
Los Angeles, CA (PRWEB) January 9, 2007
Karen Sharpe Kramer and Golden Globe nominated producer Edward Bass ("Bobby"), after more than fifteen years, have finally decided to go forward with their highly-anticipated sequel to Stanley Kramer's 1963 six-time Oscar-nominated comedy classic, "It's a Mad, Mad, Mad, Mad World!"
"I knew the timing was right for the sequel when "Bobby" became a nominee for the top Golden Globe and Screen Actors Guild Awards - it was like synchronicity," says Kramer. "Not only because Bass proved himself with an all-star ensemble cast, as there will be in this new picture. But because when 'Mad World' debuted in 1963 Bobby Kennedy was there in attendance. Plus people just won't stop asking me when I will do this and can they be in it!"
Called "It's a Mad, Mad, Mad, Mad, MAD World!," the project is a sequel to the original "Mad World" all-star epic that producer/director Stanley Kramer vowed would be "the comedy that would end all comedies." And like the original, the "Five-Mad's" sequel will throw today's top dramatic actors into the same talent mix with the funniest comedy actors on the planet.
Stanley Kramer himself wrote the treatment and a partial script before his death in 2001. Karen Kramer and Bass plan to credit him as the third producer on the project. Bass said, "This will always be Stanley Kramer's 'Mad World.'"
Bass' relationship with the sequel began in 1991 when he produced the "Mad World" documentary, "Something a Little Less Serious," with Stanley Kramer. "We began work on the sequel but then Stanley became ill and we had to put the project on hold," Bass remembers. "Later, Karen produced the remake of Stanley's "High Noon" and the launched the worldwide release of the 40th Anniversary of "Mad World" at the Cinerama Dome in 2003 with great success. With the serious events facing our world today the time is right for a wacky comedy like "It's a Mad, Mad, Mad, Mad, MAD World!""
"Everyone I've talked to gets excited about this film and knows the original surprisingly well," said Kramer, longtime wife of Stanley. "Billy Crystal said he saw it repeatedly when he was young and it helped get him through a tough time. Which makes sense, as the original ran for a year and a half after the Kennedy assassination and the laughter it generated was credited by some as 'helping heal a nation.' Ironically, John and Jacqueline Kennedy were to attend our premiere, but sent Bobby and went to Dallas instead."
In the original "Mad World," virtually every lead, supporting, and bit part in the picture is filled by a well-known comic or dramatic actor including: Milton Berle, Sid Caesar, Spencer Tracy, Jonathan Winters, Mickey Rooney, Buddy Hackett, Phil Silvers, Carl Reiner, Buster Keaton, Jack Benny, Jerry Lewis, The Three Stooges, Ethel Merman, Don Knotts, Jim Backus, Edie Adams and many more.
Stanley Kramer spared no expense (the $7 million price tag was a hefty one at the time) on the spectacular stunts, using 39 stunt men to create some of the most incredible feats on film.
George Barris, the man who created the Batmobile, Knightrider and vehicles for "Blade Runner," says of the new "Mad World," "For the past two years I've been developing a whole new set of cars - most of which will probably get destroyed because the stunts are gonna be incredible!"
Legendary comedian Sid Caesar, who appeared in the original said, "Mad World" has this enduring thing because it is about the truth. It's truth! Everything there is truth. It actually could be true!"
Carl Reiner said, "The original "Mad World" showed the industry and the public that you can make an expensive movie… a large lavish movie, and have it be a comedy…and work."
Kramer added, "Now is the time to make this picture while members of the original film can still appear in cameos, like Winters, Rooney, Caesar, Adams, Reiner, Falk, Lewis and others." Also in the original were Dick Shawn, Ben Blue, Terry-Thomas, Arnold Stang, William Demarest, Andy Devine, Norman Fell, Sterling Holloway, Marvin Kaplan, Zasu Pitts, Stan Freberg and Leo Gorcey.
She is also the impetus behind of the Stanley Kramer Award, given each year by the Producers Guild of America. This year's statue will be presented by Harrison Ford for former Vice President Al Gore's "An Inconvenient Truth." It will be bestowed at the PGA Awards on January 20 at the Century Plaza Hotel in Los Angeles.
"This is not "Rat Race" - which was done by outsiders mimicking the original, with the tag 'Rad, Rad, Rad, Rad World'," says Bass, who is also executive producing a new Kim Basinger film, "While She Was Out". "This is a sequel where the "Big 'W'" takes on a whole new meaning and the descendants of the original characters hack, claw and connive their ways to new heights of degradation. We'll have thirty to forty of the biggest comedians and actors in this film."
"It's a wonderfully crazy & colorful "chase" comedy!" The New York Times
"...an explosive motion picture experience..." Variety
"An all-star epic... one of the zippiest of its length ever made..." USA Today
For more info: http://www.edwardbassfilms.com
###