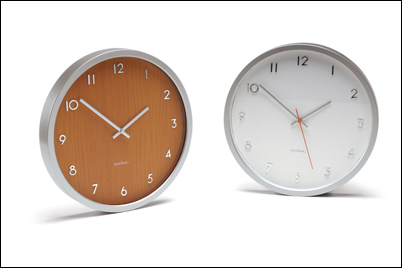 From the city apartment to the rural contemporary home, our new collections of clocks will accent any home with classic elegance and an easy air of sophistication
Concord, MA (PRWEB) January 10, 2007
For the past 16 years, retailers have relied on Swing Ltd. for the very latest in design trends for stationery products, photo accessories, gifts and other home furnishings. Broadening its products lines, Swing now offers new wall and travel clocks, as well as the new Oasis collection of leather professional accessories, including portfolios, writing folios, journals and business card organizers. New frames, scrapbooks and pencil cases will also be introduced. All products will be on display at the January 2007 New York International Gift Fair, booth #2654, from Sunday, January 28, through Thursday, February 1.
Elyse, Eva and Katia are the three distinct faces of new wall clocks from Swing, available in a variety of shapes and finishes with clean, modern details. "From the city apartment to the rural contemporary home, our new collections of clocks will accent any home with classic elegance and an easy air of sophistication," said Everett Bramhall, president and cofounder of Swing Ltd.
The appealing and contemporary Eva clock, with its square shape, rounded corners and walnut finish details, comes with either a white face and a walnut body or a walnut face and a silver body. Elyse, in either white or cherry, has a classic yet modish look. Katia, Swing's square-shaped wall clock, presents a bold, modern look, available in matte silver or matte white finish with fun, colorful details. Many wall clocks offered to retailers in the same category only offer a painted face. "We take the quality of our wall clocks one step further through the use of cast, chrome-plated numbers which give depth to the designs," said Vanessa Hunnibell, communications director of Swing Ltd. "The sculptural appeal of our new wall clocks truly sets us apart from the competition," Hunnibell said.
The Harrison travel alarm clock is a perfect gift for anyone who enjoys traveling with panache. Petal shaped, the chrome-plated clock folds completely into a hinged faux-leather case. Available in vivid aqua, black, fern and sport red, the Harrison travel alarm clocks are crafted with high-quality movement to ensure years of dependability.
Swing's new line of professional accessories, Oasis, was designed with the sophisticated, creative professional in mind, but anyone with an appreciation for functionality paired with flair and fashion will love this collection of journals, portfolios, writing folios and business card organizers. A handy zippered "catch-all" pocket distinguishes the Oasis collection and offers an easy place to stash and quickly access items such as boarding passes, tickets or cash. The versatile Oasis portfolio functions as a presentation book, a notebook or scrapbook, or whatever suits the needs at hand. All Oasis items are made of rich bonded leather with top-grain embossed details, available in café, pomegranate and pool.
As an industry leader in photo accessories, a Swing product launch wouldn't be complete without the addition of brand-new picture frames. In January 2007, buyers will have four new lines to choose from: Sylvan, Caprice, Accent, and the Marin flip frames.
New to the Sacchi brand are the fun and adorable Jewel pencil cases. Swing has crafted these miniature pencil cases of colorful faux leather and given them cute accents, including die-cut designs and a snap closure. The Jewel pencil cases come with 12 brightly colored pencils and a small doodle pad of plain white paper.
Along with the new wall clocks, Oasis collection and frames, Swing has expanded several existing product lines. The Camilla collection of book-cloth covered albums and storage boxes now includes a 12" x 12" scrapbook featuring expandable, post-construction bindings and 20 acid-free, top-loading plastic sleeves. These classically designed scrapbooks were made with the discriminating scrapbook artist in mind.
Sacchi continues to broaden its popular line of mailable greeting card frames, with two wedding styles. A silver version displays the text "Thank You" and a white version displays "The Happy Couple." Both versions are available in 4" x 6" and mini sizes. Sacchi mailable frames combine high-quality mats with faux leather borders, in a variety of gorgeous colors.
Swing Ltd., a wholesale company, designs and produces innovative home products ranging from office and travel accessories to tabletop and dining items. Through its two brands, Swing and Sacchi, Swing Ltd. has been creating stylish home products for 16 years. Swing Ltd. products are sold at fine retailers nationwide. To contact Swing Ltd., visit http://www.swingdesign.com or call 978-371-2211.
###