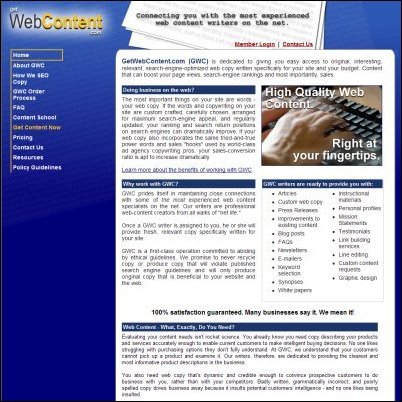 Alpharetta, GA (PRWEB) January 11, 2007
Creative Net Ventures, Inc., today announced the launch of GetWebContent.com, a new copywriting service designed to help webmasters keep pace with growing customer and search-engine demand for fresh, highly relevant, and more literate website text.
"GetWebContent is not a fast-food restaurant serving pre-cooked words or a copy mill selling tacky pre-fabricated articles to tens or hundreds of thousands of buyers," said CNVI CEO Joel Lesser. "What it offers is access to fulltime professional writers and editors whose other clients include both Fortune 100 companies and hometown delis. All our deliverables - articles, home-page content, blog entries, press releases, e-mail blasts, whatever the client needs -- will be written and search-engine optimized to each customer's specifications and never recycled or resold to other customers.
"What we are offering, nothing more and nothing less, is an opportunity for small and medium-sized web entrepreneurs to obtain the kind of customized, relevant, high-quality content previously available only to large companies which can afford to hire a full-time, in-house copywriter. You could say that GetWebContent will deliver Fortune 500 copy at small-business prices."
Lesser noted that recent changes in some major search-engines' page-ranking algorithms and "web-crawling" protocols have made posting a continuous stream of tightly focused, useful content particularly crucial for webmasters whose sites depend on search engine generated traffic for a substantial percentage of sales.
"The search engines are giving substantially more weight to the quality, relevancy, quantity and age of a page's text in assigning a page rank and return position," Lesser said. "With web crawlers such as Googlebot re-evaluating sites every month or less, the addition of proper content - or the failure to add proper content - to a site can be reflected in improved or degraded search-engine ranking much more quickly than in the past. "
"Somewhat surprisingly, there are still many webmasters who are unaware that search-engine ranking programs ignore photos and graphics completely. The algorithms take many, many factors into consideration, but art isn't one of them and words are. All the words in a site's content, in its headers, its metatags, its title, the anchor text describing its links are important to search engines.. If, as everyone seems to saying, "content Is king" in creating a successful and prosperous website, it is equally fair to say that words are the most important structural elements in building that content."
For more information on GetWebContent, visit http://GetWebContent.com
###