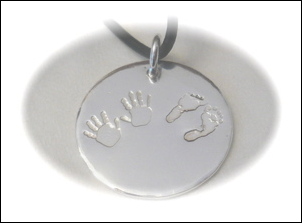 JULIAN & Co. for Mom
San Diego, CA (PRWEB) January 11, 2007
Mothers whose premature newborns are hospitalized in the NICU at Sharp Mary Birch Hospital for Women may not be able to take their babies home right away, but starting at the end of January, each will take home a "JULIAN & Co. for Mom" necklace commemorating the joyous occasion of their child's birth.
"When you're in the NICU, you spend so much time consumed with worry that you don't really have the luxury to celebrate your new baby's arrival in the way that parents of healthy full-term babies do." Tania Condon, JULIANandCo..com founder explains. She should know. Her own son, Julian, spent the first six weeks of his life in the NICU at Sharp Mary Birch.
Born 11 weeks prematurely weighing just 3lbs 4oz, Condon was faced with a reality she'd never even contemplated during her 29 weeks of pregnancy--she was going home without her baby. Although Julian is now a thriving 2-year-old, the memories of the early days spent in Sharp Mary Birch's NICU are still fresh in Condon's mind.
"Seeing other parents who had been through what we were going through really helped me to embrace and celebrate motherhood rather than be afraid of it. With these necklaces, I hope to return the favor," Condon says.
The sterling silver pendants (5/8" in diameter) are inscribed with tiny baby hands and feet on the front and the child's name and birth date on the back. Condon has also developed the "Eternal Love" necklace, which will be donated to mothers in that unit whose babies have passed. The "JULIAN & Co. for Mom" and "Eternal Love" necklaces (which retail for $59) will be accompanied by a poem Condon wrote in reflection of her experience. Donations will continue indefinitely.
About JULIAN & Co.
When Tania Condon could find no bracelet small enough to fit her premature son Julian's wrist, she designed her own. And so just months after her first child's birth, Condon delivered another "baby," JULIAN & Co.. In addition to their extensive infant jewelry line, JULIAN & Co. offers sterling silver and 18k gold commemorative necklaces and bracelets for mom and dad. They are best known for their signature "JULIAN & Co. for Mom" necklaces, which feature Julian's hand and foot prints. To learn more about the Sharp Mary Birch Hospital NICU "JULIAN & Co." Donation Program, to schedule an interview or to inquire about wholesaling opportunities, please visit: http://www.JULIANandCo.com , or call 619.750.4776.
About Sharp Mary Birch Hospital for Women
One of the first of only 17 free-standing women's hospitals in the nation, Sharp Mary Birch Hospital for Women provides a full-range of women's health care services that cover every stage of a woman's life.
###