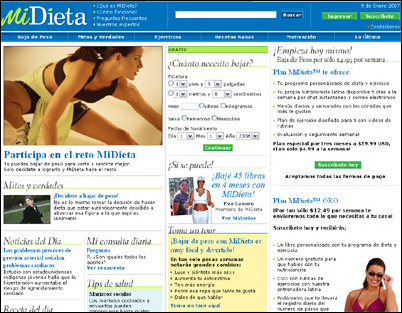 Atlanta, GA (PRWEB) January 10, 2007
The premier online destination for millions of Hispanics, launches a new look and feel with key features aimed at helping its members achieve weight-loss goals and improve their health.
According to Robert Estrada, President, CEO and founder of DrTango, Inc., provider of the MiDieta™ program, obesity is a major and growing problem among U.S. Hispanics with serious implications for diabetes and other chronic disease risks.
Since 2000, MiDieta™ has been helping Hispanic/Latinos lose weight, improve their health, and reduce disease with the program developed by Latinos for Latinos. Our new website has been designed with state-of-the-art features to help the Hispanic community achieve better health through weight loss, with an emphasis on the support of our expert dietitians and a more aggressive approach to help people make permanent changes in their lifestyle", said Estrada.
A revolutionary characteristic of MiDieta™ are the people who support members in achieving their goals. A culturally-appropriate weight-management portal, supported by dietitians available for counseling through live chat, email and telephone, offers an attractive option for Hispanics. MiDieta is bilingual (Spanish/English), based on Latino foods & habits" said Dr. Dirk G. Schroeder, Executive VP, DrTango Inc.
Until recently, MiDieta™ was only available online or through leading hospitals and healthcare institutions. This award-winning program has been recognized by the U.S. Department of Health and Human Services and featured in research studies funded by the prestigious Robert Wood Johnson Foundation" continues Dr. Schroeder.
Now, for the first time, this very same online diet and weight-loss program used by the country's leading healthcare and media companies is available directly to the Hispanic consumer in the privacy of her or his home. The new MiDieta™ is the result of over six years of testing and development and incorporates suggestions from hundreds of thousands of Hispanic dieters!" concludes Dr. Dirk Schroeder.
Newly launched MiDieta™ offers visitors free access to the following:
Diet and fitness evaluation -- Personal reports to identify the specific dietary and physical activity habits that the person should change, including dietary habits that are contributing to his/her current weight problem; as well as identifying those that should be maintained.
Information -- Easy navigation through different channels loaded with articles, recipes, tips and updated diet, fitness and health news.
Community -- Encouraging visitors to participate in forums and chat rooms.
Recipe Exchange -- Enabling visitors to post their favorite recipes, rate the recipes of their choice, save the best recipes and even participate in a monthly award of the best rated recipe.
Weekly e-newsletter -- With the latest information about diet, fitness and health.
For members who want to lose weight, MiDieta™ has two different plans available at affordable prices:
The MiDieta™ Online Plan offers:
Expert dietitians through live chat or email
Personalized online diet plan
Daily and weekly menu plans
Personal exercise plan with online video routines
Weekly evaluation of progress
The MiDieta™ Gold Plan offers, in addition to the features mentioned above, access to our dietitians through a toll free number plus the following delivered to your home:
Printed Diet and Fitness Evaluation Report
Printed Personalized Diet and Fitness Plan
Quick Start Guide for Losing Weight
Eating-Out Pocket Guide
30 Most Common Myths About Diets
DVD with exercise routines to do at home or at the gym
Pedometer to measure steps and physical activity
Measuring tape
Journal to track progress
Registration is quick and simple, just visit MiDieta.com and start enjoying our diet and weight loss program.
# # #