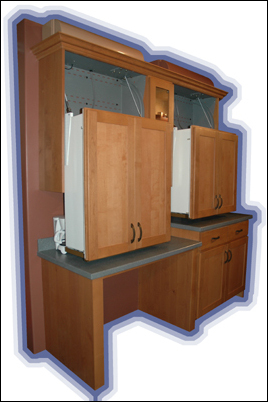 The cabinet system mounts perfectly flush with your other cabinets so no one will ever know by sight that you have an AUTO-CAB™ installed.
Portland, OR (PRWEB) January 10, 2007
With the press of a button the AUTO-CAB™ slides out from its place amongst its identical brother and sister kitchen cabinets, arriving gently at the front of the countertop like something from a Hollywood movie. And then just like in a movie, it curves back up and blends into the other cabinets again. The AUTO-CAB™ is the brainchild of cabinet maker Kevin Jobe. Jobe believes that his new remote-controlled self-lowering cabinet system will help baby boomers "age in place" as well as help disabled persons who are currently unable to reach upper kitchen cabinets without assistance.
Jobe recalls the event that started him down the inventor's path. "My father, a paraplegic since he contracted Polio as a kid, was reaching for something in an upper kitchen cabinet. He really had to stretch to reach it. He had it on the tips of his fingers and then he dropped it. In his frustration he said, 'Why can't these cabinets come to me instead of me to them!?' A light went on in my head. I thought, 'If I've been making custom cabinets for 14 years, why can't I create a solution for my father? And not just for my father, but for my mom who is height challenged at less than five feet tall and my daughter who was born without a right arm below her elbow.' You could say the light that went on in my head was very bright."
Jobe had grown up watching both of his parents try to reach things with grabber tools, often with a more frustrating result than merely not being able to reach the item in the first place. And the thought of his mom teetering on a step ladder to reach for a high shelf made Jobe really nervous. "I was very motivated to press on and see this idea come to fruition," says Jobe.
The AUTO-CAB™ consists of a fiberglass inner-cabinet, a hidden wall-mounted frame with rails and cables that guide the cabinet down, a motor, a plate-like switch on the bottom of the cabinet and a remote control. "The molded fiberglass shell is designed to seamlessly accept any type of wood, or wood and glass cabinet door so you can match your existing cabinets exactly," states Jobe, "The cabinet system mounts perfectly flush with your other cabinets so no one will ever know by sight that you have an AUTO-CAB™ installed." The semi-circular motor cover is also paintable to blend in with the wall . The motor is capable of lifting 100 pounds of whatever you put in your cabinets.
A plate switch to activate the cabinet and move it up or down covers the bottom of the cabinet and is activated by pressing up anywhere on its surface. The remote control functions similarly. However, the plate switch is also a safety device which stops the cabinet's descent if it touches any solid object. Another pressure-sensitive safety switch stops the cabinet from returning completely to its "up" position if it might pinch fingers or get caught on something. Jobe's brother Kyle demonstrated the sensitivity of the switches by stopping them with an errant hot dog. The switch worked as promised and the cabinet stopped its motion without damaging even the skin of the food.
The AUTO-CAB™ comes in all standard cabinet sizes. Installation is apparently quite simple for any experienced cabinet installer and each cabinet comes with detailed instructions and a DVD demonstrating the installation process. Cabinets are available only through authorized distributors and range in price from $4000 to $4,500 not including doors or installation. For more information, visit http://www.AutomatedCabinetSystems.com.
###