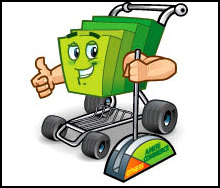 Being recognized as a CODiE Awards finalist is a testament to the hard work and dedication of the AmeriCommerce team
Beaumont, TX (PRWEB) January 10, 2007
AmeriCommerce is pleased to announce that its Shopping Cart Software has been named a finalist in the Software & Information Industry Association's prestigious 22nd annual CODiE Awards competition.
AmeriCommerce Version 4.1 was recognized as a finalist in the Best eCommerce Solutions category for its wide array of innovative features and ease of use that make it stand out in the competitive shopping cart software industry.
"Being recognized as a CODiE Awards finalist is a testament to the hard work and dedication of the AmeriCommerce team," said Stefan Barlow, Systems Architect and Co-Founder. "For 6 years our developers and ecommerce specialists have consistently pushed to create more innovative solutions for online businesses."
For 22 years, SIIA CODiE Awards have been the leading honor for the software and information industry's finest products and services. CODiE Awards judges work to identify the "best-of-the-best" from hundreds of nominees - over 1,200 in 2007.
"The 2007 CODiE Finalists represent real winners, even at this stage of the contest," said Ken Wasch, SIIA President. "Competition is fiercer than ever and that makes selection as a CODiE Finalist a major achievement. All the companies on this year's list should feel justifiably proud of their recognition."
The complete list of CODiE Award finalists can be viewed at http://www.siia.net/CODiEs/2007/finalists.asp.
About AmeriCommerce
AmeriCommerce is a full service e-commerce solution provider. In production since 2000, the AmeriCommerce shopping cart software is built on the concept of marketing performance, ease of use, and customization. AmeriCommerce provides their customers with everything they need to design and operate a successful online storefront. For more information, visit the AmeriCommerce web site.
About SIIA
The Software & Information Industry Association (SIIA) is the principal trade association for the software and digital content industry. SIIA provides global services in government relations, business development, corporate education and intellectual property protection to more than 800 leading software and information companies. For further information, visit http://www.siia.net.
###